Review for Ghost in the Shell: Stand Alone Complex Complete Series Collection - Deluxe Edition
So at last – I have finally seen 'Ghost in the Shell: The Stand Alone Complex'; both complete gigs and both on Blu-Ray. The discs were passed to me by my esteemed reviewing colleague, Jitendar Canth, and his excellent reviews of the original DVD releases can be found by those seeking a serious and informed appraisal by doing a quick search on this very site. For the rest of you, what follows is the views of an anime-outsider; a part-timer if you like. Or perhaps a dabbler would be more apposite. Frankly, whatever you elect to call me (and I've got very thick skin), for good or ill, here goes.
Although I received only (only?! The ingrate!) the core series check-discs, with some 52 episodes spread across 8 discs, they are a part of a bigger set available exclusively through Zavvi , which also contains the compilation films; Individual Eleven and Laughing Man and the bona-fide movie, Solid State Society. The limited edition set also ships with a host of other goodies apparently, including an exclusive 140-page in-depth book, including interviews, cast & crew profiles, episode breakdowns and so on. Limited to a mere 1000, these are likely to sell-out fast.
So for the uninitiated, what is the Stand Alone Complex Series all about? Well, off the bat, I should point out that, whilst it owes much in terms of style and genre to the original 'Ghost in the Shell' anime movie (I haven't seen the relatively recent film adaptation), it doesn't follow on from it – nor is there any need to have seen that to understand this.
The series is set in the future where it's now possible to have almost any part of a body replaced by machine parts - meaning that most citizens are a hybrid of man and machine to some degree. The 'ghost' of the title refers to a version of the 'soul' – the brain that sits at the heart of every machine which also has some machine-like interface, allowing memories to be uploaded and downloaded, or even shared across groups of (literally) like-minded individuals.
This technology clearly allows for some amazing increases in thinking and physical power – for both the good guys and the bad. Cue 'Section 9', a crack-team of Government commissioned policemen dealing with the most sensitive and difficult crimes – including, but not limited to, cyber-hackers and terrorists.
The group is led by Daisuke Aramaki, a man with vast knowledge and experience (and a crazy hairstyle) alongside Motoko Kusanagi, pretty much the main protagonist and one you'll (kind of) recognise from the original anime film – a cool cyber-punk with, in the series anyway, purple hair and a tight-fitting jump suit over an Amazonian figure. She is the senior 'squad leader' of the operational team; the person leading from the front whilst Daisuke is left to deal with the red tape of the office. Mimi Woods voice portrays her as a sassy, tuned-in individual – kick-ass most the time, but with a soft heart rarely revealed. The team can communicate with one another telepathically, as well as exchange information more quickly whilst connecting with hard wires (a reminder that this was a series from 2006 when WiFi was less prevalent, not really becoming a reality for most consumers until 2009).
Both 'gigs' (or 'series' if you prefer) contain 26 episodes, bringing the total here to 52 and they vary from long-arc stories to stand-alone one-shots, all hugely entertaining. Perhaps the longest running thread throughout the entire series is that of a mysterious hacker, 'The Laughing Man'. But more on him later…
GIG 1

The title sequence for series 1 seriously miss-fires but please don't let that put you off. Whilst it may look like you're in for a lot pf heavy, clunky CGI, once it's out the way, it's actually a pretty decent, traditional looking anime. Also – if you've read rumours about the poor Blu-Ray transfers, I really can't echo that here. Apart from some slight stuttering in the movement of the title sequence, it all looked good to me.
The series kicks off with a few character establishing 'one-shots' showing the team tackling various criminals with plots that show a world which is rarely what it appears to be. There is more than a whiff of The Matrix here, showing a futuristic, cyber-world where reality and 'coding' often intertwine. It's a world full of cyborgs and Ai, and a society with acute problems; slight amplifications of the problems of today, with much poverty and many refugees becoming increasingly restless with their lot.
The core team are a great mix of macho-cool, intellectual prowess and computer geekiness – supported by a sub-family of almost child-like Tachikomas; Ai robots who think and act collectively whilst striving for individualism. They provide some light relief throughout (as well as at the tail end of each episode in a short skit) as well as saving the day on more than one occasion.
The 'Laughing Man' story-arc permeates series 1 and 2 and is without doubt the show's most enigmatic story – with an unknown 'terrorist/hacker' going beyond Level 9's sphere of experience. Portrayed as a young man in a hoodie, the Laughing Man's true motives are not clear until a good way into the second gig, though his abilities are never in doubt. Seemingly able to move through a scene unnoticed (by hacking people's cyber-vision), it's not until the team view CCTV footage that they see his presence.
Both 'gigs' are curiously wordy for an action anime; no doubt to flesh out the philosophical intricacies of a world where the definition of humanity and machines are blurring. This is most definitely a thinking person's anime.
Visually it's terrific – with highly imaginative, almost abstract vistas representing the virtual world, avoiding obvious clichés like streaming noughts and ones. All the characters seem well formed, and whilst there are moments with very little movement, every now and then it kicks into life.
The English dubs are all top notch and the music simply excellent (produced for the most part by renowned composer, Yoko Kanno) especially in Gig one where the front and end captions are supported by memorable tunes; in particularly 'Lithium' which was a real grower.
GIG 2

Just when you'd got used to the opening and closing theme songs, and that godawful title sequence, everything changes for Gig 2, serving up two lesser themes that lack the punch of Gig 1. Not only that, the character art also changes marginally, making me wonder why. It's certainly not an improvement on Gig 1 but maybe it's no worse. By the end of the first episode, all that gets quickly forgotten about.
To a large extent, Gig 2 is more of the same – longer, complex story arcs (including the continuation of the Laughing Man) alternating with one-shot crime shorts. It's a potent mix and makes for very fun viewing.
If anything, Gig 2 goes deeper into the political drivers behind Section 9 and their influence on the team, both good and bad. Gig 1 ended with the group virtually ordered to disband, whilst Gig 2 figuring out what might be the best way ahead. Armaki has a closer relationship with the Prime Minister than ever before whilst, together, they fight corruption and refugee discontent and injustice.
Things also take a slightly grim, graphic turn with an episode featuring the 'Individual Eleven' who, ritualistically, cut off each other's heads in a bloody suicide act on national television. Such an occurrence doesn't feel out of place in this series. It becomes a matter of time before a full-scale war will break out, serving the interests of a small majority.
The second Gig rattles along at an even greater rate than Gig 1, which means you'll never get bored. Both series are an absolute blast and I imagine have excellent re-watchability.
Regarding special features, I never get terribly excited about these on anime releases. I mean, who seriously watches textless credits? However, this pack comes with some very worthwhile and illuminating interviews with Director, Kenji Kamiyama; Composer, Yoko Kanno and original voice actors, Atsuko Tanaka, Osamu Saka, Akio Ohtsuka, Koichi Yamadera, Tamagawa Sakiko & more; mecha Designers, Teraoka Kenzi & Tsuneki Shinobu; writers Junichi Fujisaku, Yoshiki Sakurai, Dai Sato, Shotaro Suga as well as other cast & crew.
If you're lucky enough to snaffle one of the limited edition deluxe box sets then you're going to get the following.
Packaged in a deluxe rigid box with metallic finish
11 blu-ray discs including 52 episodes & 3 films, housed in a custom digi-file and featuring new on-disc designs
A treasure-trove of on-disc extras with cast & crew interviews, trailers, textless opening and TV spots
An exclusive 140-page in-depth book, including interviews, cast & crew profiles, episode breakdowns and more
Also features newly restored subtitles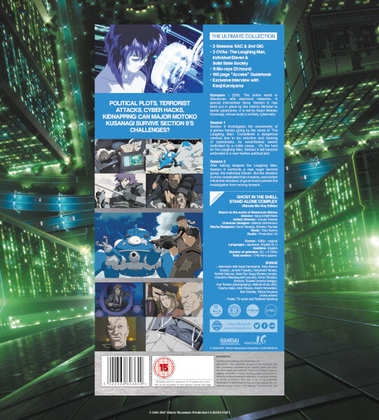 Though this won't come as a revelation, this classic anime series from well over a decade ago really does deserve the mantle. This Blu-ray edition must surely be the definitive one to get. Superb stuff.