The Killing Series 1-3 Box Set (US Series)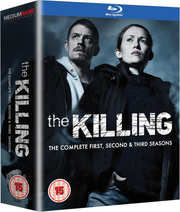 Who killed Rosie Larsen?
Certificate:
Running Time:
Retail Price:
Release Date:
Content Type: TV Series
Synopsis:
'Deliciously intelligent TV... Marvellously executed' The Telegraph

Based on the Danish series The Killing (aka Forbrydelsen), one of the original Nordic Noir hits that put this brand new genre on the map with its renowned jumper-wearing detective Sarah Lund.

To coincide with the release of The Killing season four on Netflix, Mediumrare brings the Emmy nominated The Killing seasons one to three to DVD and Blu-ray for the first time as one complete collection and also as single disc releases, with season two and three making their UK home entertainment debut.

Soaked in atmosphere, the slow burning, crime thriller stars Mireille Enos (Big Love) as Sarah Linden, the lead homicide detective who is assigned to the murder case of 17 year old Rosie Larsen.

Written and produced by Veena Sud (Cold Case), the addictive whodunit follows Linden and her partner Stephen Holder (Joel Kinnaman - Robocop) in their investigation, as politician Darren Richmond (Billy Campbell - Helix) prepares for his Seattle mayoral campaign and Rosie's family try to continue a life without her. As evidence slowly surfaces, the stories start to interlock and Linden drifts further and further from her plan to retire to California with her fiancé.

Who killed Rosie Larsen? Now its your turn to find out with the stunning collection of this thrilling, atmospheric drama.
Special Features: