Tetsuo: The Iron Man / Tetsuo II: Body Hammer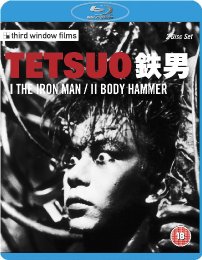 The cult favourites make their world HD debut!
Certificate: 18
Running Time: 148 mins
Retail Price: £24.99
Release Date: 2012
Content Type: Movie
Synopsis:
For the first time on blu-ray, Shinya Tsukamoto's cult classics have been digitally restored from their original negatives to be presented in high definition in this double-disc set featuring brand new exclusive extras as well as Shinya Tsukamoto's 'Tetsuo' prototype short-film 'The Adventures of Electric Rod Boy'

Tetsuo 1: A strange man known only as the "metal fetishist", who seems to have an insane compulsion to stick scrap metal into his body, is hit and possibly killed by a Japanese "salaryman", out for a drive with his girlfriend. The salaryman then notices that he is being slowly overtaken by some kind of disease that is turning his body into scrap metal, and that his nemesis is not in fact dead but is somehow masterminding and guiding his rage and frustration-fueled transformation.

Tetsuo 2: Body Hammer Sequel to "Tetsou" this time has the Iron Man transforming into cyberkinetic gun when a gang of vicious skinheads kidnap his son. When the skinheads capture him, they begin to experiment on him...speeding up the mutative process! 
Special Features:
'The Adventures of Denchu Kozo no Boken' – Shinya Tsukamoto's 45 minute student film, with introduction from Shinya Tsukamoto
Exclusive interview with Shinya Tsukamoto
New Trailer
Original Japanese Trailers
Trailers of other Third Window releases

Video Tracks:
4:3 pillarboxed 1080p

Audio Tracks:
DTS HD MA 2.0 Stereo Japanese

Subtitle Tracks:
English

Directed By:
Shinya Tsukamoto

Written By:
Shinya Tsukamoto

Starring:
Shinya Tsukamoto
Kei Fujiwara
Tomorowo Taguchi
Nobu Kanaoka
Sujin Kim
Hideaki Tezuka
Tomoo Asada
Iwata
Keinosuke Tomioka
Torauemon Utazawa

Music From:
Chu Ishikawa

Director of Photography:
Shinya Tsukamoto
Kei Fujiwara
Fumikazu Oda
Katsunori Yokoyama

Costume Designer:
Kei Fujiwara

Producer:
Shinya Tsukamoto
Hiromi Aihara
Fumio Kurokawa
Fuminori Shishido
Nobuo Takeuchi

Executive Producer:
Shinya Tsukamoto
Hiroshi Koizumi

Distributor:
Third Window Films