Eden of the East: The King of Eden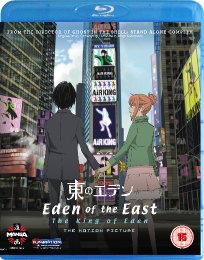 2010's Most Intriguing New Anime Returns With A Brand New Movie!
Certificate: 15
Running Time: 81 mins
Retail Price: £29.99
Release Date: 2011
Content Type: Movie
Synopsis:
Director Kenji Kamiyama's masterful Eden Of The East saga continues with The King Of Eden, the highly anticipated feature-length movie sequel to his original 11-episode animated TV series.

The movie begins immediately where the series left off, with Saki Morimi arriving in New York in search of her new friend Akira Takizawa, who has once again brainwashed himself and disappeared after leaving her his Selecao phone and a message to meet him where their original journey began.

Following recent events, Saki's friends at the Eden Of The East project have developed their work into a successful small business thanks to the international recognition of their computer software's role in preventing a series of missile attacks on Japan. Meanwhile, images of Taki pointing at the missiles and determining their destruction have circulated the globe turning him into a folk hero people are calling the "Air King".

Finally tracking down Taki to a riverside location where they spent time together shortly after they first met, Saki explains to him his past and his role as a Selecao, a pawn in a mysterious and deadly game to "save Japan". Meanwhile, other Selecao are monitoring their movements with one, in particular, intent on assassinating Taki and catching the event on film.
Special Features:
Air Communication, feature length re-edit of the original 11-episode series (123 mins)
Movie 1 News Flash
Movie 1 Preview
TV Spots
Trailers

Video Tracks:
1080p 1.78:1 widescreen

Audio Tracks:
Dolby TrueHD 5.1 English
Dolby TrueHD 5.1 Japanese

Subtitle Tracks:
English

Directed By:
Kenji Kamiyama

Written By:
Kenji Kamiyama

Starring:
Ryohei Kimura
Sakiko Tamagawa
Saori Hayami
Atsushi Miyauchi
Ayaka Saito
Hayato Taya
Hiroyuki Yoshino
Jason Liebrecht
Leah Clark
Stephanie Young
Christine Auten
J. Michael Tatum
Jerry Jewell
John Burgmeier
John Gremillion

Music From:
Kenji Kawai

Director of Photography:
Hiroshi Tanaka

Editor:
Junichi Uematsu

Producer:
Tomohiko Ishii
Koji Yamamoto

Executive Producer:
Mitsuhisa Ishikawa
Naoki Kitagawa
Yoshio Takada
Kazuhiko Yusa

Distributor:
Manga Entertainment