Anime Review Roundup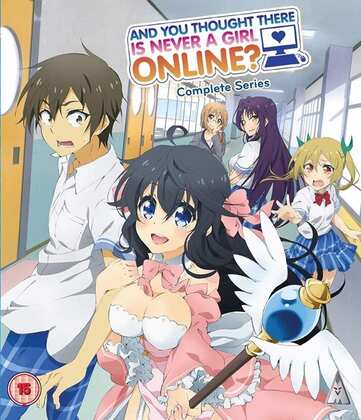 Last week's new anime review was for the Blu-ray of
And You Thought There Is Never A Girl Online?
as I upgrade another series to high definition. Some shows are good because of what they are, while some shows are good despite what they are, and Netoge (its abbreviated Japanese name) is one of the latter. It's a little bit harem comedy, and it's a little bit isekai (but not really), focussed on a teenage boy in an otherwise all girl, after school online RPG club as they try to rehabilitate the shut-in with no concept of reality, in their midst. A show that could have been disposable fan service manages to have a degree of re-watchability thanks to its strong characters and interesting story. Click on the review to read more.
This Week I Have Been Mostly Rewatching...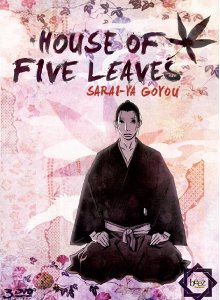 House of Five Leaves. The end of the first decade of the 21st Century saw carnage as the anime bubble popped and companies fell by the wayside, among them Beez Entertainment in the UK and Europe. But Beez had one hell of a last gasp, bringing out singular titles like Durarara!, Tatami Galaxy, Sound of the Sky, and this, House of Five Leaves. Alas, something went wrong at Beez, and its swan song was out of tune with some badly authored discs across the board. Anime Limited have given the first two titles in that list well deserved Blu-ray releases, and I eventually got Sound of the Sky on DVD from the US, but although I made a mental note to get a better version of House of Five Leaves, I never did, and it's no longer available in the US. But, Beez's dodgy discs are still available in the UK. You get to exercise a skill that I thought had been lost with the VHS age, enjoying a show or movie despite the technical drawbacks of the format. Is House of Five Leaves good enough to transcend its messed up stereo track? Hell yes!
Having social anxiety isn't a useful trait for a samurai, which is why the protagonist of the show winds up joining the Five Leaves group, people who make a living through kidnap and ransom, but they're not the sort of villains that you'd expect. They're quite a charismatic and interesting group, which is why the samurai is drawn to them, not least the enigmatic leader. But that leader's tragic past is about to catch up with them all.
House of Five Leaves is the rarest of anime, a show made for adults, with complex characters, subtle stories, emphasised by mood and atmosphere rather than bombastic visuals and base clichés.
Here's my review
. This is a show that you have to invest in, you have to contemplate, but it's the shows like this that are often the most rewarding. Beez released the show on DVD in 2011 and it is still available to buy (Germany, France and UK shared the discs), and at a price in some quarters (UP1) that makes it easier to live with the shortcomings of the authoring.
MVM released And You Thought There Is Never A Girl Online? on Blu-ray and DVD in 2018.