Review for House of Five Leaves
Introduction
I'm always looking for something different and unexpected from anime, something that takes the medium in a direction previously un-travelled, something that shies away from the usual styles, tropes, and clichés of the mainstream. You would have thought that House of Five Leaves would be the ideal such title, after all it looked like no other anime that I had seen at that point. But for one thing, it's a show about samurai, and anime about samurai aren't exactly thin on the ground. With a tagline like, 'from the studio that brought you Samurai Champloo' it didn't sound all that much a departure from the norm. The second thing is that it's a Beez release, one of the final few titles that company released before it closed up. I haven't had a lot of luck with Beez discs, having found them inadequately authored and with flaws and errors commonplace. For their last few titles, they were asking premium prices for subtitle only releases, this, Tatami Galaxy, The Girl Who Leapt Through Space, and Sound of the Sky. Once bitten as they say, and I decided to wait for a suitable sale before giving House of Five Leaves a try. In the interim, it transpired that this show no longer was unique in my experience. I watched Ristorante Paradiso on Crunchyroll, a show from the same creator as House of Five Leaves, Natsume Ono. Ristorante Paradiso is an anime about love in an Italian restaurant. That bodes well for House of Five Leaves when it comes to uniqueness.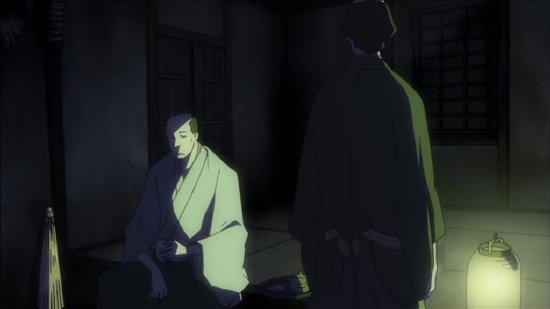 Akitsu Masanosuke is a samurai with a problem. He tries to find work as a bodyguard in Edo period Japan, a position in which he can use his considerable skills with the sword. The problem is that he's a samurai with an inferiority complex. He's shy, retiring, and uncomfortable around other people. That's of little use in a career that requires forthrightness and boldness of character.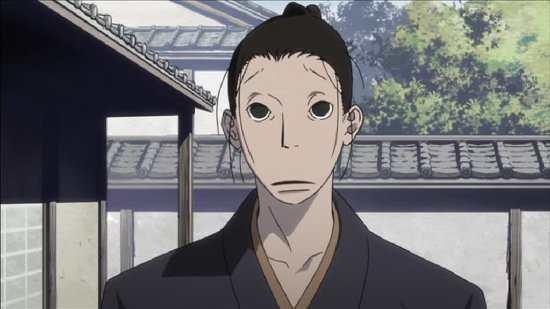 There is one person who's willing to hire him, who sees beyond his unremarkable personality to the talent within. The enigmatic Yaichi has a position for Masanosuke in his Five Leaves Group. The problem is that what the Five Leaves does is hardly honourable. It's a collection of a disparate group of individuals, tavern owner Umezo, a geisha named Otake, a retired thief named Matsukichi, and the aforementioned Yaichi, and they've come up with a risky way to make money. It's the kind of business that needs a little protection, hence the offer to Masa. And much as the business of the Five Leaves offends Masa's sensibilities, he can't help but be drawn into it.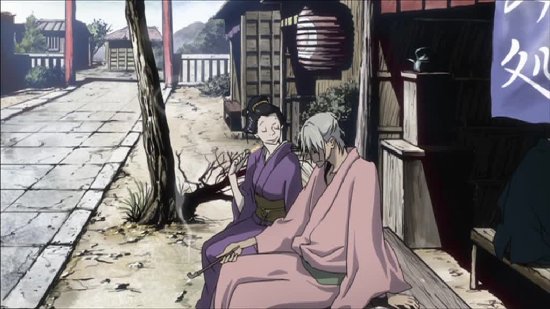 All 12 episodes of House of Five Leaves are presented across three discs by Beez Entertainment.
Disc 1
1. In Name Only
2. Make Love to Me
3. Gradually Get Him Involved
4. Sure Does Get Carried Away
Disc 2
5. It'll Be Fine
6. Consider Yourself Fortunate
7. Thoughtless of Me
8. Deeply Indebted to Two People
Disc 3
9. Come to Rescue You
10. Dirty Stray Cat
11. Pardon Me
12. Already Wasted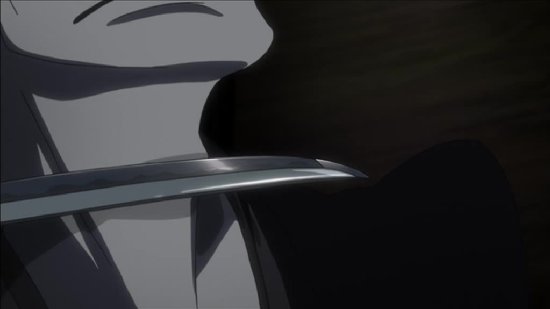 Picture
House of Five Leaves is a thing of beauty, although you'll have to leave your anime preconceptions at the door to fully appreciate it. Natsume Ono's character designs depart from the accepted anime doctrine. Characters are tall and elegant, yet their faces eschew the large eyes, small mouth standard. These characters have sharp features, are wide lipped, their eyes are of realistic proportion, they have large pupils and are heavy lidded. What is striking is their impressionist feel, very minimalistic and stylised, but they do enough to carry the mood of the piece and convey the emotions of the characters.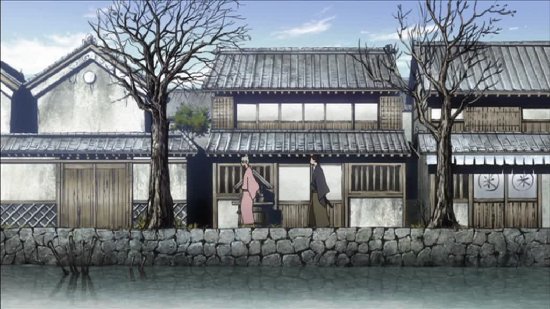 The world setting is sublime, with detailed, artistic backgrounds, drawn in gentle colours and in a very nostalgic, warm light. The look of the show is atmospheric and enchanting. These Beez discs do a nice job in conveying Manglobe's animation, with the 1.78:1 anamorphic transfer getting the native PAL treatment. The image is clear and sharp throughout, free of any glitches and signs of compression, and affected by only a slight aliasing.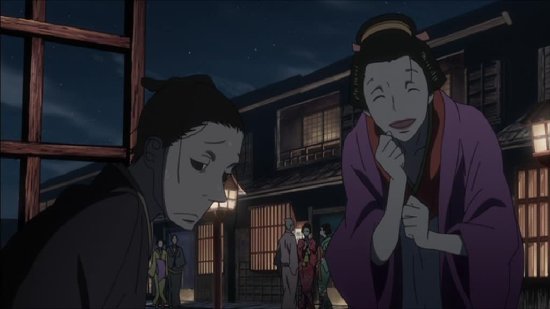 Sound
The sole audio track is a DD 2.0 Stereo Japanese track, with the option of English, French, or German subtitles. The dialogue is clear throughout, and the show gets some rather quirky music, a couple of memorable theme songs, and a mix of traditional and more modern music in the show. The theme songs aren't subtitled. Subtitles are clear and free of error, although oddly divided. Sentences are occasionally split across subsequent captions.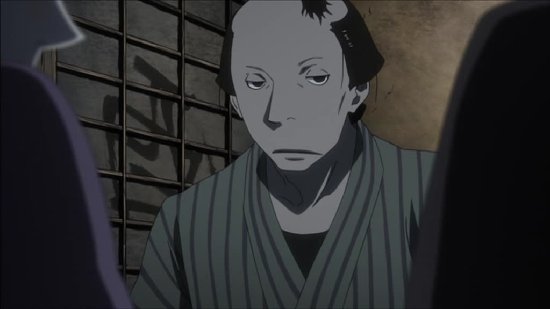 There is a problem with the audio however. I may be totally wrong, but it sounds as if the stereo has been phase inverted and laid over the correct stereo track. This has the effect of keeping the dialogue centralised and shifting it to the sides, while bringing the effects and music to the centre as well as keeping them to the sides. There is still a hint of stereo left, but it has the effect of muffling and distorting any effects and music. The one saving grace is that the dialogue remains clear and central throughout, and as House of Five Leaves is dialogue heavy show, it thus remains watchable. This isn't a constant in this release, but about two-thirds of the episodes are affected. I noticed it on episodes 3, 4, 5, 6, 7, most of disc 3, most of the closing themes, all of the next episode previews, and several of the opening themes.
Extras
House of Five Leaves gets a pretty presentation. It's pretty daft, but pretty nevertheless. The discs are presented in a novelty card case that's bound like a hardcover book. The discs are held in two plastic digipack forms glued inside the cover; one disc on one side, two overlapping on the other, and the card cover has artwork on all four panels. The disc blurb is presented on a sheet of paper that is loose of the book, with no way to store it or keep it safe. I suppose it's meant to be disposable, but why would anyone want to? The book doesn't fasten shut; it just hangs together, making the security of the discs somewhat questionable.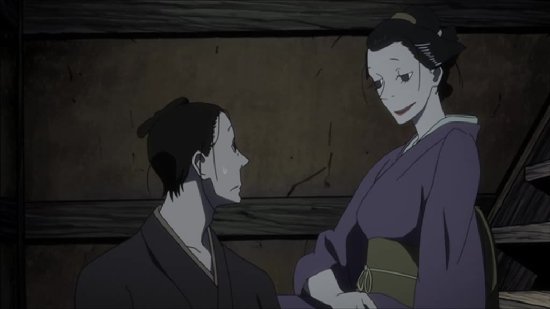 The copyright screen and the menus look pretty enough. Place a disc in the player and you have the choice of English, French, and German menus, but Beez's authoring is questionable. Select your menu and the copyright screen comes up. Skip it, and the next language copyright screen plays, and then the next, instead of going to the main menu as you would expect. Leave it alone, and it will play just the one copyright screen first as it should. Also, I found that during playback, pressing menu on my remote didn't take me back to the menu, it crashed the disc instead, leaving me to start again from the beginning. During playback, the timer is locked.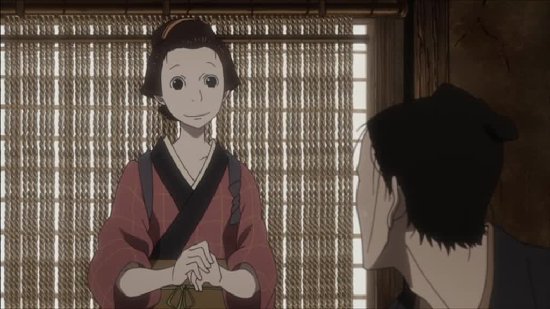 As I said, the animated menus are very nice, but the only extras that you get on each disc are the textless credits and some Beez trailers, Mobile Suit Gundam Seed, Gurren Lagann, Eureka Seven, The Girl Who Leapt Through Space, Durarara!! (and Midori Days, Planetes, and City Hunter in the French menus).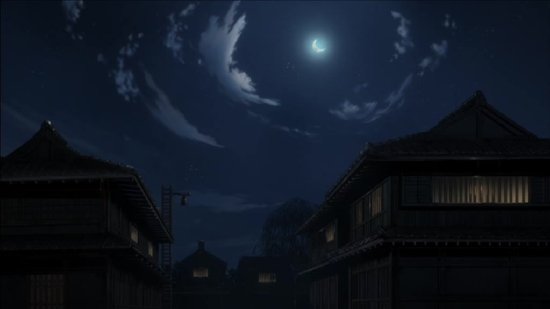 Conclusion
House of Five Leaves is an adult anime, and that's not in the Ninja Scroll, Urotsukidoji sense of the word. House of Five Leaves may well be an anime about samurai, but it's light on the action, and it's more about character, about atmosphere, and about emotional colour. It's a show for fans who appreciate character development, who revel in character interaction, who seek strong, smart, and indeed subtle writing. To put it bluntly, House of Five Leaves isn't for everyone, and if you are used to action, pace, and indeed regular doses of narrative from your anime it will leave you cold. I have to admit that it took me more than half the series run to begin to warm to it, and it was only the final few episodes that really sold me on its charms. It's the definition of a slow-grower, and it's also a show that you will appreciate more with repeated viewings.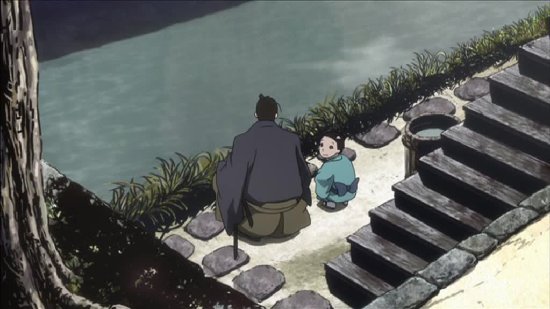 With all that said, you do not want the show's story spoiled for you, deceptively obscure as it is. The show drops little hints, and ideas as the episodes unfold, sows little seeds of narrative that will only come together in the final two episodes, and then you actually realise that House of Five Leaves does have a story. Up to that point, it's almost like a mediaeval slice of life show. The setup is simple enough, with Masa, the shy and awkward samurai being pulled into an unexpected seedy underworld when he meets the Five Leaves group. His initial instinct is to steer clear of them, but his fascination with the characters involved keeps pulling him in.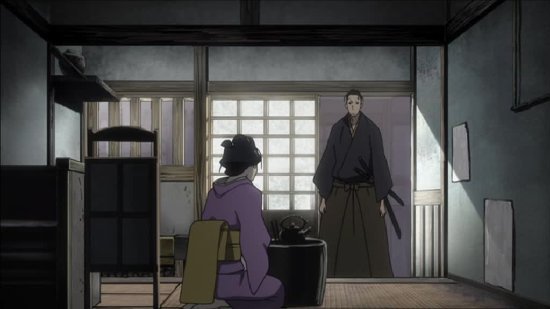 The Five Leaves seems pretty respectable in every aspect but one, the business that they participate in. Otherwise the tavern owner looking after his daughter, the retired thief, the geisha, and the enigmatic leader of the group all seem like nice, well-adjusted people. It's only as Masa gets to know them that he learns just why the Five Leaves group exists. Despite the Five Leaves' nefarious business, the show really isn't about that, it's about people interacting, talking, learning about each other, finding the limits of social interaction, knowing what questions to ask, and what questions not to ask. Masa being socially tactless tends to ask one question too many, which begins to unearth the secrets that the members of the Five Leaves carry, and this alters the dynamic between them. It also has an effect on Masa himself. To make things more complicated, Masa is also befriended by another enigmatic man outside the group, whose interest in the Five Leaves is more than just passing.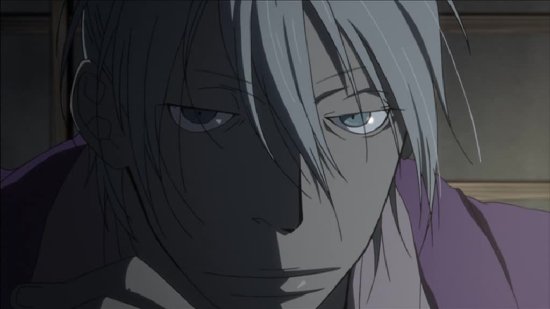 On the surface, not a lot happens in House of Five Leaves. It's all in the subtext; it's a show you have to work at, to pick away at, a show you have to actually think about. It's also a delightful looking piece, once you get used to the different character design ethic. Its use of colour, the measured sense of design all give it a unique signature, much in the same way that Mushi-shi used colour for its stories. The visual presentation on these discs can't be faulted, but the general authoring of the discs is shoddy, and the audio is flawed. While it won't do the show any justice, the best that I can suggest is that you output the audio as mono, and listen to the show that way. At least it won't be distracting. Actually the best that I can suggest is that you import the NISA Region 1 release or the Siren Region 4 release instead.