13th Hour Horror Festival
The inaugural 13th Hour Horror Festival at London's Leicester Square Theatre this
Halloween promises to be a very scary fortnight. Do come in. And turn out the light.
Award-winning writers, famous comic faces, academics, artists and actors have all
come together to explore the ghoulish, the macabre and the spine-tingling through
theatre, comedy, film, music, lectures, storytelling and art. From Dracula, the
anatomy of giants and plays by torchlight to interactive movie experiences, Aleister
Crowley's influences and Zombie based stand-up, there really is something for
everyone.
All listings are included below as well as on the Leicester Sq Theatre website.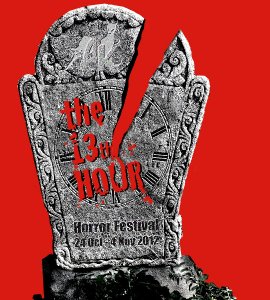 Sci-fan Corporation and AlleyKat Present: Dracula - 7pm, Wednesday 10 – Sunday 28 October (£12/£10)
Evil lurks in the streets of London...the oldest vampire, Dracula plans to settle in the heart of the empire and is seemingly unstoppable. ...this visually stunning and faithful adaptation of Bram Stockers classic chiller is directed by the award winning Adam Morley. Don't miss your first opportunity to see these work in progress shows, starring Andrew-Lee Potts (Primeval, Band of Brothers), Charlie Bond (Strippers vs Werewolves) and using live music, shadow
puppetry and traditional story telling.
AlleyKat Presents: Real Horror Show - 7pm, Tuesday 24 & Wednesday 25 October (£9 advance/£11:50 on the door)
Prepare to scream with terror and delight at this selection of twisted plays that delve deep into the horrors of humanity, the madness of the mob and the power of paranoia. Written by and starring groundbreaking character comedian Colin Hoult (Ultimate Carnival of Monsters) with an incredible ensemble cast featuring Frisky & Mannish, Sarah Daykin, Thom Tuck, Will Andrews, Anna Crilly, Mike Wozniak, Rachel Parris, Tom Palmer, Toby Williams and Fergus Craig. Not for the faint hearted! "Twisted creative genius" Guardian, "Master of the macabre...will draw out
laughter from the deepest recesses of your soul" Time Out
Jonny & the Baptists' Congregation – 9pm, Tuesday 24 October (£8)
Following a critically acclaimed Edinburgh Fringe run and appearances on Marcus Brigstocke's Early Edition and Robin Ince's Late Night Revolution, Jonny & the Baptists invite you to join their silly, satirical (and secular) congregation. Kicking off their musical comedy residency with a darker twist for the 13th hour horror festival, special guests will include Frisky and Mannish, Thom Tuck, Colin Hoult and Rachel Parris. "A triumph" **** Chortle, "It rarely gets better than this" **** Edinburgh Festivals Magazine
Bec Hill is more afraid of you than you are of her – 9pm, Tuesday 24 October (£8)
Spiders, heights, clowns - everyone harbours a secret fear. But one comedian is hiding the deepest, darkest secret of all - Bec Hill is afraid of audiences. YouTube cult hit and one of Time Out's Top 5 Funniest Comedians on Twitter, Bec is fresh from her sell-out Edinburgh Fringe run with a show all about her biggest fear: YOU! A refreshing blend of charm, whimsy and infectious enthusiasm, Bec's comedy and "paper-puppetry" is highly individual and brimming with joy. So come on. What are you scared of? "A powerfully positive attitude that will cheer even the most jaded" **** Chortle "A highly creative, delightfully funny show – Bec Hill's an innovative talent to keep an eye on." **** Time Out
In the Gloaming Live! With Nat Tapley – 9pm, Wednesday 25 October, 8:30pm Sunday 28 October (£10)
The acclaimed live show based on the award winning horror-comedy podcasts is back by popular demand! Gasp, shriek and cackle through these twisted tales presented by Nat Tapley, Darren Strange, Ruth Bratt, Lizzie Roper, Michael Greco and more...
Cigarette Burns present: Psycho v Psycho – 9pm, 25 October (£15/12)
Hitchcock vs Van Sant. Anthony Perkins vs Vince Vaughn. Janet Leigh vs Anne Heche. Five screens, two films, one Motel.
Taking advantage of the unique screening arrangements of the Leicester Square Theatre, for the first time ever Alfred Hitchcock's 1960 classic PSYCHO will be shown simultaneously with Gus Van Sant's much-maligned 1998 remake. This fascinating experiment provides a unique insight into the nature of directorial technique and the role of actors' interpretation, while asking the question: can a story be told exactly the same way twice? Find out with us in October, while watching one of the best thrillers ever made on the big screen!
Film critic and occasional Classicist, Anton Bitel will be introducing the screening.
LoveHorror's Zombie Movie Massacre
10pm, Friday 26 October: Dawn of the Dead
10pm, Sunday 28 Oct: 28 Days Later
10pm, Monday 29 Oct, 10pm: Dead Snow
(£5, £2.50 when booked with any other show at the 13th Hour Horror Festival)
Do you love horror? The people at LoveHorror.com - the horror movie review site - sure do! That's why we asked them to compile a list of the very best zombie movies, to be screened for your putrid pleasure throughout the festival. From zany, zombie comedies to brutal, bloody, brain eating epics, Love Horror's Zombie Movie Massacre is a series of shockingly entertaining screenings, offering guaranteed gore, guffaws and more.
Ditto Productions Present: The Beta Males in The Bunker–9pm, Friday 26 October & 7pm, Saturday 3 November (£10)
Critically acclaimed sketch storytellers and 2012 Chortle award nominees The Beta Males return with their entirely post-apocalyptic sketch show for two nights only. Take your place in The Bunker; humanity's last refuge beneath the scorched soil. Witness a society living in the guttering light, 30 years into a mutated future. Hilarity – but mostly doom – ensues as we sketch the last 273 humans alive, and the last punchlines they'll ever share. "One of the most exciting,
gloriously funny acts out there" **** Time Out, "Slick, hilarious, genius" The Sunday Times
Nathan Dean Williams gives you - THE WILLIES – 9pm, Saturday 27 October (£10)
Character comic, cabaret creep and sicko storyteller, Nathan Dean Williams prepares to give you the willies. Twisted tales and scary sketches, from the murky corners of an unwell mind. Expect murder, misery, monsters, matricide, sickos, psychos and sadists. A brand new, one off Halloween special from the writer/performer of critically acclaimed, cult Edinburgh hits Cheeky Beggars' Banquet and The Buffet. With special guest co-stars, Lizzie and Sarah Daykin (TOBY). WARNING: There will be blood. "Sheer comedic joy...perfectly served by the taut brilliance of the writing" ***** Broadway Baby
Scottish Falsetto Sock Puppet Theatre present: A Socky Horror Show – 3pm, Sunday 28 October (£8/7)
Fresh from their 5th hit year at Edinburgh, the Socks present their brand new Socky Horror Show with ghoulies, vampires, zombies + the usual songs, socks and violence.
"Had every single audience member... laughing until they cried." ***** - Edinburgh Evening News
Aleister Crowley on Film - 3pm, 28 October (£6)
Lecture hosted by Blondie Member Gary Lachman
The dark magician Aleister Crowley has been an influence on avant garde filmmakers such as Kenneth Anger and Alejandro Jodorowsky, but he has also made an impact on popular cinema. Come see the Wickedest Man in the World hypnotize virgins and lead pagan orgies in such classic horror films as The Black Cat, Night of the Demon, The Devil Rides Out, and others. Bring your pentagram.
The Hallowe'en Sessions - 4:30pm, Monday 29th October (Press & Industry only), 8.30pm, Monday 29th October – Saturday 3 November (£15/£12)
A group of mental patients gather for a therapy session to each recount the terrifying events that caused them to lose their minds. But is their mysterious therapist all she appears to be, and will her course of treatment prove to be kill or cure? Cigarette Burns and an award-winning team of horror/fantasy creators join forces to bring you a nightmarish evening filled with primal screams. Writers Kim Newman (ANNO DRACULA, MORIARTY: THE HOUND OF THE D'URBERVILLES), Stephen Volk (THE AWAKENING, GHOSTWATCH), Anne Billson (SUCKERS, STIFF LIPS) Paul McAuley (FAIRYLAND, the QUIET WAR trilogy), Maura McHugh (JENNIFER WILDE, ROISIN DUBH) and director Sean Hogan (THE DEVIL'S BUSINESS, LITTLE DEATHS) take you on a head trip through the darkest recesses of the human psyche, where no one – least of all the audience - escapes with their nerves or sanity intact.
The Three Englishmen: The Lighthouse Keepers – 7pm, Monday 29 October (£12/10)
Flannan Isle: a remote and forbidding island, beyond the Outer Hebrides, its lighthouse staring out across the bleak expanses of the North Sea. In 1900, a relief crew sent to the island found that the three lighthouse keepers who manned it had disappeared. There were strange signs of a sudden abandonment - out of character for the men and against all procedure. The mystery surrounding their fate was the talk of the Empire... a grim riddle that remains unsolved to this day. Until now. This darkly comic play reveals the Lighthouse Keepers last night on the island. We follow them through their quarrels, dreams and nightmares, before they are snuffed out by... what exactly? "Brilliant" The Times, "Charisma, wit and talent" British Comedy Guide
The Voices in your Head – 7pm, Tuesday 30 October (£10)
Okay, so we're going to take the UK's best stand up comics and sketch comedians and freak them out. They have no idea what they're doing until the "voice of god" (creator Deborah Frances-White) tells them. Watch them uncensored, out of control and funnier than ever in this spooky special.
Tiernan Douieb and AlleyKat Present: Zomedy - 10pm, Tuesday 30 October (£15/£12)
When there's no room left in hell, the comedians shall walk the earth - a night of zombie based comedy that will cause enough laughter to wake the dead. Jokes so infectious you'll be craving brains on the way home. Be prepared to be afraid, be prepared to corpse with giggles, but mostly be prepared for an undead good night.
Featuring: Rich Fulcher, Frisky & Mannish, Ginger & Black, Colin Hoult, Danielle Ward, Keith Farnan and Tiernan Douieb.
Richard Sandling's Perfect Movie – 7pm, Wednesday 31 October (£10)
Like Films? Like Comedy? Well, then you'll LOVE "Perfect Movie Halloween Special". Award-winning comedian and film reviewer Richard Sandling presents a stand-up comedy show about films. 'Perfect Movie' features very special guests, interviews, sketches, classic movie trailers, games and recreations of top comedians' favourite film scenes all in one jam-packed 75 minutes of film fun. Promising to be a gloriously ramshackle, fun and informative evening of film based comedy - you'd be a fool to miss it! "Brilliantly geeky" Time Out, "Joyful, funny, clever" The Scotsman
Ditto Productions Presents: The Beta Males' Midnight Movie Theatre - 10pm, Wednesday 31 October (£9 advance/£11:50 on the door)
Don your TerrorVision specs and scream yourself hoarse with a galaxy of comedy stars and critically acclaimed hosts The Beta Males at this very special scream-tacular, for one night only on Halloween. Using patented INSIDE-O-VISION, Chortle Award-nominated sketch-storytellers will bring you inside a late-nite horror-movie, showing one of the finest creature features, deranged slashers or apocalyptic schlockfests the bargain-bucket has to offer. Who knows who, or what, lurks in the shadows? With special guests: David Reed, Cariad Lloyd, Max & Ivan, Thomas Nelstrop and Paul Foxcroft. WARNING: The first two rows may die - of thrills!
"Genius" Sunday Times , "A furnace of invention" Chortle
Paul Gannon - Ain't Afraid of No Ghost – 7pm, Friday 2 November (£10)
As a Ghostbusters fan in 1984, Paul wanted to grow up to be a Ghost Hunter. But that never happened. Having spent 2 years exploring the supernatural, Paul presents a show based on his unusual and random paranormal experiences. A comedy stand up show that asks 'Are there really ghosts?' and then tells you "I don't know" 50 minutes later... "Well crafted lines... highly likely to make you laugh... deft Characterisation" – ThreeWeeks
The Sticking Place present: The School of Night in School of Fright – 9:45pm, Friday 2nd & Saturday 3rd November (£12/10)
The award-winning improvisation troupe returns fresh from their Edinburgh Festival success with a brand new show. Tales of Terror in the styles of Poe, HP Lovecraft, Stephen King and anything else the audience requests - all made up on the spot. The cast are veterans of the award-winning Showstopper (West End, Radio 4) as well as the London 50 Hour Improvathon - the world's longest improvised show. "Intelligent, laugh a minute fare" **** The Telegraph, "Fearsomely able improvisers" **** The FT
Dr Julie Anderson: The Nightmare of Giants – 1pm, Saturday 3rd November (£6)
Giants, Anatomists and Resurrection Men in 18th and 19th century London. The shadowy figures of anatomists and resurrection men haunted the dreams of giants. The spectre of Dr John Hunter, the anatomist who was able to get the body of the giant Charles Byrne for his collection by nefarious means, overshadowed giants who made their living showing their massive bodies at London fairs and exhibitions. The giants knew that their bodies, and indeed their souls were at risk from the men who wanted their bones as spectacular objects for their collections and the men who would do that work for a price. Julie Anderson will explore this murky world, detailing the lengths that giants went to so that their bones would rest in peace in their graves and the anatomists and resurrection men, who worked to ensure that they did not.
Mark Pilkington: From the Akashic Jukebox – 4pm, Saturday 3rd November (£6)
Magic and Music in Britain, 1888-1978
Magic and music are as old as humanity, but organised witchcraft, a British cultural export whose influence has been felt all over the world, is younger than jazz. In this talk, illustrated with images, music and rare recordings, Mark Pilkington, writer and publisher of Strange Attractor Press, explores British occultism's origins in the bohemian groves of late 19th century London, and charts its impact on popular music and some of its players, from the rock 'n' roll years
through to the paradigm shift of punk. The emerging stories glow with transcendence, ripple with mystery, honk with absurdity and are all too often shadowed by tragedy.
Crimson Skye presents: Death Row Diva– 3pm, Sunday 4 November (£10)
She's here! Direct from Death Row, for a limited time only. From the woman described by Alice Cooper as, "delightful!" comes disturbed dark comedy and song: Patsy Cline's 'Crazy' as you've never heard it before; a straightjacket striptease; and her partner Ed the Severed head. The story of her love affair with Ed serves as a charming reminder about how it's definitely NOT okay to lie to your partner. Sharper than Freddy Kruger's pinkie, with a bite that makes Hannibal Lecter look like the tooth fairy. Just make sure to count your fingers and toes on the way out!
"Wickedly funny" What's on Stage
Storytellers' Club Horror Special – 5pm, Sunday 4 November (£10)
Comedians gather round the campfire to tell witching hour tales. Things that go bump in the night; ghoulies, ghosties and long-legged beasties; strange encounters; chance events and more, as Sarah Bennetto and her band of merry raconteurs weave their magic in the flickering firelight. A show for all those that love stories, with a hallowe'en twist.
Storytellers' Club: you show, we tell. "Just go and see it" Time Out, "Unashamedly literate and lo-fi" The Independent, "A magical idea" – Metro
Max and Ivan's Roffle Club Horror Special – 8:30pm, Sunday 4 November (£10)
A seedy, seductive and scintillating night of character, sketch and stand up comedy just for you! Hosted by Award winning and critically acclaimed double act, Max and Ivan. "An eclectic night of character, sketch and the downright bizarre" Time Out (Critics' Choice)