Volume one of George A. Romero's Deadtime Stories is coming to DVD this October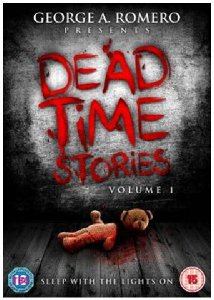 George A. Romero Presents: Deadtime Stories, Volume 1
On DVD and Download to Own and Rent 3rd October 2011
Horror legend
GEORGE A. ROMERO
(
Night of the Living Dead, Dawn of the Dead, Day of the Dead,
Creepshow)
presents three horror stories that will keep you awake at night!
DEADTIME STORIES VOLUME 1
is a disturbing and disquieting anthology that will give you three times as much terror this Halloween...
DEADTIME STORIES VOLUME 1
includes:
Valley of the Shadow
- A woman searches for her missing husband in the jungles of South America, but soon the hunters become the hunted.
Wet
- A lonely potter finds a valuable jade box buried on the beach and the creature inside wants to keep him company…
House Call
- In poor, lonely, farm country, a woman calls an elderly doctor out on a dark and stormy night to make a house call on her strangely ailing son. What he finds when he gets there isn't listed in any medical books...
Not for the faint of heart and a must for horror fans looking for an original scare this Halloween,
DEADTIME STORIES VOLUME 1
is out on DVD (RRP £12.99) and Download to Own and Rent from the 3rd October 2011.
DVD technical details:
· Number of discs: 1
· RRP: £12.99
· Certificate: 15 (TBC)
· Sound: Dolby Digital 2.0 Stereo
Running time: 73 Minutes Approx.