Crazy Talk Animator Delivers A One Of A Kind Animation Tool For Digital Artists Everywhere
Reallusion, Inc. introduces a powerful animation pipeline for CrazyTalk Animator, the revolutionary 2D Animation desktop studio designed for professional storytellers, aspiring animators and now; digital artists.
CrazyTalk Animator is an innovative animation engine that has been built from the ground up and designed specifically to avoid neck-breaking frame-by-frame editing. With its universal face and body templates and its real-time puppeteering capabilities, CrazyTalk Animator delivers unprecedented ease and speed in animation.
Now digital artists everywhere can exploit the powers of drag & drop content creation with real-time puppeteering, to animate any kind of image or artwork in a matter of minutes. Artists no longer need to worry about complicated pipelines and time-consuming tasks as CrazyTalk Animator's highly automated design allows for quick and easy character creation, face & body fitting with customizable motion controls.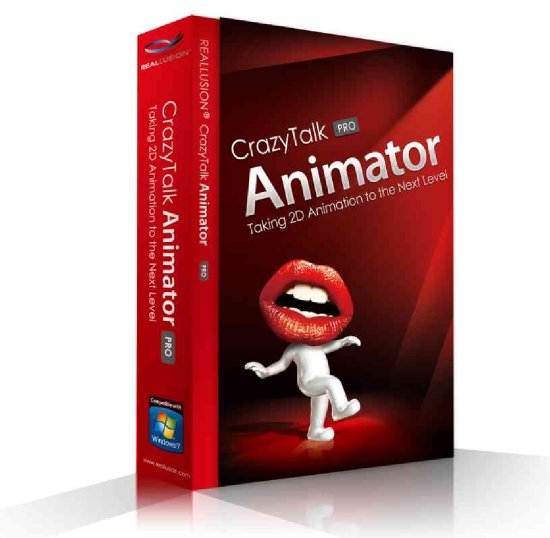 Artists can import their vector, draw, paint or photographic artwork by simply dropping their content directly into the main CrazyTalk window for further fitting. Props and characters can then be easily created and saved inside the content library for future projects. Additionally, users can use realistic facial morphs with body sprite segments to generate animations with preset mouth, eyes, and hand libraries. Another great feature allows the audio data to be turned into phonemes that trigger instant facial animations. This audio lip-sync allows for a streamlined animation process that can be further enhanced with preset emotions and detailed expression commands at any time.
Changing positions of any image or painting is now so easy thanks in part to FK and IK editing which provide authentic character posing. Characters can be freely puppeteering with mouse and slider controls that allow speed and style customization on the fly. Users may even take advantage of real Z-depth layering and camera manipulation to create their own unique scene perspectives.
Graphic Artists can also make good use of the CrazyTalk Animator community marketplace, which can expand their content library and speed up daily production, with unique character designs to enhance any project.
In such a short time, CrazyTalk Animator has already received wonderful reviews from power users, software magazines and general artists. By breaking the rules of traditional animation, CrazyTalk Animator has empowered people with the ability to visualize their ideas and storytelling with every day media.
Reallusion has created a specially designed landing page for draw and paint artist to visit, and learn all about great features and applications for graphic artists.
To learn more, just visit:
http://www.reallusion.com/crazytalk/animator/default.aspx