Anime Review Roundup
Two reviews for you this week, beginning with the much anticipated
Summer Wars
. It's Mamoru Hosoda's follow up to The Girl Who Leapt Through Time, and if you are a fan of high quality animation coupled with good, solid, character based storytelling, then this is a must purchase. Summer Wars is a movie for the modern age, taking a look at the extended family and the current vogue in online social networks. The wars in question could be seen as the conflict that arises when the modern way of communicating comes into conflict with traditional values. Kenji Koiso is a mild-mannered, timid geek that gets invited home during summer break by Natsuki Shinohara, the cutest girl in school for her grandmother's birthday. Kenji is a little overwhelmed by the size of Natsuki's family, and he's completely unready to be introduced as her fiancé. You'd think that the online network OZ would be a useful escape, but when OZ is hacked, and the blame placed on Kenji, he'll have to fight to clear his name. But it gets worse, soon user identities are being stolen the world over, systems are crashing in the real world, and it's clear that this is no simple hack. Now Kenji has to save two worlds, both real and virtual. Fortunately he isn't alone. The Jinnouchi clan is ready to go to war. Click on the review to read more.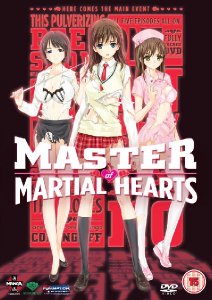 From the sublime to the… well to the crap quite frankly. I rounded off the week with the utterly disappointing and deflating
Master of Martial Hearts
. But if you like female nudity and violence, this may just be right up your street. You may be able to ignore the impression that every expense has been spared on the animation. You may be able to tolerate the low quality and inconsistent character designs. You may be able to live with the utterly ridiculous story. If gravity-defying boobs are what you seek, then this anime delivers. I've long since escaped this show's target demographic, but if you're in touch with your inner adolescent and like this sort of thing, then click on my review, ignore the words, drool at the screenshots, and place your orders.
Summer Wars is out today from Manga Entertainment, on DVD (which I have reviewed) and Blu-ray. It's also out in twin-pack form with The Girl Who Leapt Through Time, and note that if you want The Girl Who Leapt Through Time in higher definition, then the Blu-ray twin-pack is the only way to get it. Manga Entertainment will release Master of Martial Hearts on DVD next week, 4th April.