New Mercalli V2 Mac plug-in offers Final Cut Pro, Apple Motion, and Premier Pro CS5 Mac users extremely effective video stabilisation and automated rolling-shutter correction right on the timeline
proDAD today confirmed that the highly anticipated Mercalli V2 Mac plug-in is now available for immediate purchase and download as part of the proDAD Mercalli V2 Pro plug-in product. The new Mercalli V2 technology was first shown at NAB in April of this year and the plug-ins for Windows based NLEs began shipping in October and today the Mac plug-ins are finally available. Mac users who took advantage of the Mercalli V2 Pro "pre-release special" will be receiving an email to download and install the Mercalli V2 Pro package using the original download link & license key that was sent to them.
Mercalli V2 - More than just a stabilizer
Complete 3D video stabilisation on all 3 camera axes.
Fully automated rolling-shutter compensation of undesired skewing, jelly, or wobble effects.
Minimal zooming requirement compared with other stabilizers.
Eliminates jerking movements during panning.
Removes irregularities during panning.
Calculates missing images during low FPS rates.
Optimizes digitalized and restored Super 8 footage.
Smoother results for all video recordings, from hand-cameras to steady-cam.
Over-arching multiple scene stabilization.
Intuitive and interactive operation and multi-core support for super fast results.
No key-frames or elaborate tracking points necessary.
Ready to use: Just load the video, stabilize - done!
Win 32-/64-Bit support with independent plug-in versions.
Compatible with Apple Final Cut Pro, Apple Motion, and Adobe Premier Pro & After Effects CS5 Mac.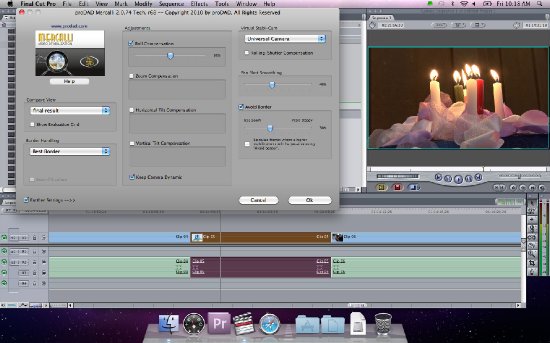 Pricing and Availability:
Mercalli V2 Pro retails for $249.00 and is available for immediate purchase and download from the
www.prodad.com
web shop. proDAD is offering a 20% introductory discount for Mercalli V2 Pro until January 15, 2011.