I'm Gonna Explode out on DVD in April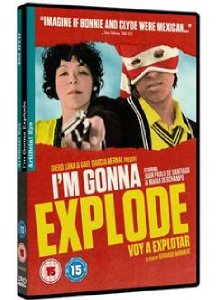 I'M GONNA EXPLODE
(VOY A EXPLOTAR)
RELEASED ON DVD 12TH APRIL 2010
A film by Gerardo Naranjo
FIPRESCI Winner - Thessaloniki Film Festival 2008
Venice Film Festival 2008, Toronto Film Festival 2008 , New York Film Festival 2008, Chicago  Film Festival 2008, AFM Film Festival 2008, Mar del Plata Film Festival 2008, Stockholm Film Festival , Berlinale 2008, Istanbul Film Festival 2008, Edinburgh Film Festival 2009, AFI Latin American Film Festival 2009
WRITTEN AND DIRECTED BY:
GERARDO NARANJO
EXECUTIVE PRODUCERS:
DIEGO LUNA and
GAEL GARCIA BERNAL
(stars of Y tu mamá también)
STARRING:
Juan pablo de santiago / maria deschamps / daniel gimenez cac
"

INTENSE, VISCERAL AND SEXY"
ROSAMUND WITCHER, DAZED AND CONFUSED - FILM OF THE MONTH
"

IMAGINE IF BONNIE & CLYDE WERE MEXICAN"
DAVE CALHOUN, TIME OUT
Co-production: Canana Films, Cinematografica Revolcadero, Fidecine, Instituto Mexicano de Cinematografía (IMCINE) and Verisimilitude
Roman and Maru, two troubled teenagers, attempt an impossible rebellion against the adult world. Maru, a 15-year-old loner, meets Roman, the reckless son of a corrupt right wing politician. United by their desire to fight the inertia that they feel surrounding them, the two embark on a revolt against everything and everyone when they decide to run away to a place where they are free of other peoples expectations. This leads them to an accidental new intimacy and the discovery of their sexuality, a bond that both unites and confuses them. Despite the risk of getting caught by the police and their parents, the young fugitives jeopardize the security of their hiding place and seek to expand the limits of their paradise. But this will mean a return to reality, where wounds are genuine and actions have consequences. 
DVD DETAILS:
Running Time: 106 minutes
Cert: 15 (TBC)
RRP: £15.99
Cat No: ART482DVD
Barcode: 5021866482309
Language: In Spanish with English subtitles
SPECIAL FEATURES:
Theatrical trailer