Anime Review Roundup and BAM Update
Slayers Revolution Has Been Dubbed
For those of you who have been watching the Slayers releases from MVM, you will no doubt be aware that MVM also have the rights to the latest series, Slayers Revolution, and Slayers Evolution-R. You will also be aware that following the breakneck monthly release of the three older series, there appears to be a Slayers drought on the horizon. That is of course because it takes time for these shows to be dubbed and mastered for a Western DVD release. According to
Anime News Network
(because we in the UK are
still
barred from Funimation's Video Portal), Funimation have now completed dubbing the Revolution Series, and have put the first four episodes up on their streaming site in preparation for a March DVD release. MVM usually wait until a series has been released in its entirety before releasing it themselves, so expect Slayers Revolution in the second half of 2010, or the beginning of next year.
The Bexley Anime and Manga Festival Finale has Changed
It's just a week or so before BAM kicks off in southeast London, but the schedule is still fluid it seems. It looks as if the 5cm per Second and K20 double bill has been nixed because of licensing concerns, but in its place, March 1st will see an early showing of Mamoru Hosoda's
Summer Wars
at Bluewater, before it gets a wider release this summer. All the Cineworld showings have been booked solid, but there's extra room at Bluewater, meaning more people will get to see this acclaimed movie. And remember, it's free! Check the
BAM Facebook page
for details on how to book.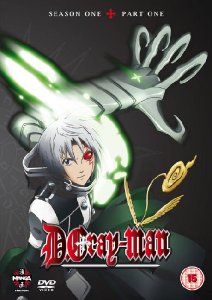 I was going to say that there are only two reviews this week, but then I took a look at just what I have reviewed. That's a total of 29 episodes! Back in the day of 4-episode volumes, that would have equated to seven reviews. Seven reviews in one week would have been a bumper harvest indeed. The first three reviews rolled into one this week comprise
D. Gray-Man: Series 1 Part 1
. This is a new series debuting from Manga in 2010, and it's another long running adventure series in the same vein as Naruto and Bleach. D. Gray-Man is a spooky, supernatural action adventure, where a band of exorcists fight the forces of evil, demonic chimera created by the Millennium Earl to wipe out humanity. Our Harry Potter-esque hero is the orphan raised by an exorcist Allen Walker, whose left hand is a weapon that defeats the demons, and whose cursed eye can spot them as they skulk amongst humanity.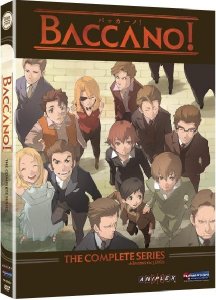 This would have been four single volume reviews, but a
Baccano!: The Complete Series
boxset gets a review all to itself. I sometimes feel that my sojourn in the medium of anime is like being adrift in a sea of mediocrity, casting a line out in the hope of hooking more than just a mere minnow. Thankfully, the anime we get to see in the UK has been distilled somewhat from the crude oil that the US gets, it's rare that we get a dud of a series here, although I still can't explain how Samurai Deeper Kyo made it. The anime we get is the equivalent of cod, bass, barracuda, and the occasional dolphin friendly tuna. But once in a while, you get something awesome, you get a leviathan, you get a proper sea monster, you get the sort of show that you just have to crow about, the Ghost in the Shell, the Cowboy Bebop. Baccano! is Moby Dick! It's the best anime show to come out of Japan in years. Unfortunately it hasn't made it to the UK, I had to import. Even more unfortunately, it isn't the sort of show that is easily described in the space of a paragraph. I urge you to go read my review, and then go and place the order. It's that good!
Manga Entertainment will release D. Gray-Man: Series 1 Part 1 on the 22nd of February. Funimation released Baccano!: The Complete Series as 2009 breathed its last and it's available from all reputable importers.