The Bet out on DVD this coming February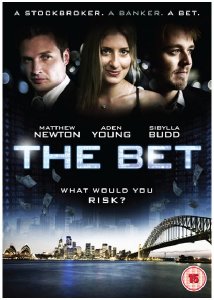 THE BET
ON DVD FEBRUARY 8, 2010
Directed by: Mark Lee
Written by: Caroline Gerard
Starring:
Matthew Newton
Aden Young
Sibylla Budd
Tim Richards
Roy Billing
A young stockbroker from working class, middle Australia, Will (
Matthew Newton
) is slowly climbing the corporate ladder but hungers for more in a world where status and money are everything. Through his colleague and friend Benno (
Tim Richards
), Will falls in with a group of wealthy young Sydneysiders.  Their allure is epitomised by Angus (
Aden Young
), a handsome and powerful investment banker and son of one of the country's wealthiest men. 
Fuelled by an undercurrent of machismo and ambition, Will makes a casual bet with Angus; who can make the most money in ninety days? Will realises that hard work will not be enough to win him the bet and its prize of $100,000. But with his pride and reputation at stake - he can't afford to lose. And there is another reason to win; to secure the affections of Tory (
Sibylla Budd
), the sophisticated, intelligent lawyer, who represents everything he wants in life. 
Obsessed with winning, the bet becomes much more than a game as Will begins taking short cuts, slipping into a world of illicit trading activity and succumbing to his overpowering ambition. And, with every success, greater risks ensue, as he inadvertently pushes Angus to the limit while hiding the bet and his corruption from both the woman he loves and his trusting father (
Roy Billing
). When things go awry and Will starts losing control, he has to make a choice - win the bet at all costs or throw it all away for a woman who loves him, with or without the acceptance, money and lifestyle he desperately craves.
SPECIAL FEATURES:
RUNNING TIME: 92 minutes
CERT: 15
PRICE: £9.99
CAT NO: KAL8061
BARCODE: 5060192810608