Titanic 2 surfaces on DVD in February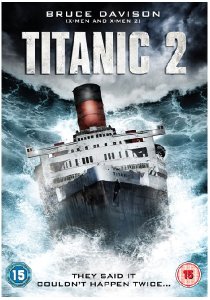 TITANIC 2
DVD Release date: 7th February 2011
Running time: 82 minutes
Cert:
12
They said it couldn't happen twice…
To mark the 100th anniversary of the original voyage, a state-of-the-art luxury liner, christened
TITANIC 2
sets out to cross the Atlantic, from the US to the UK. A host of special guests are invited along to enjoy the glitz and glamour on board the beautiful ship, but whilst the champagne flows on deck disaster begins to stir below…
After a deep, dark rumble is heard in the distance, a huge tidal wave approaches the ship and smashes into its side, rending a vicious hole and putting tremendous pressure on the turbines. As the engines finally give out and the liner comes to a halt, the celebratory voyage becomes a nightmare as passengers battle to reach the lifeboats.
A white-knuckle, nerve-wracking disaster film of epic proportions,
TITANIC 2
will leave you gasping for air and wondering if your heart really can go on…
Extra Features
Includes
The Making of TITANIC 2…