Cygnett Micro - Mini Rechargeable Speaker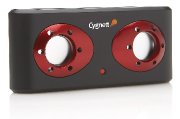 Cygnett Micro - Mini Rechargeable Speaker
London UK, November 23
rd
 2009
, -Cygnett, leading developer of an innovative, high quality range of accessories for iPod, iPhone and MP3 players, has announced the new Micro. Enjoy hours of ear bud-free music with the Micro mini rechargeable speaker. Whether you're in the garden, on a beach, or even relaxing in a bath, the Micro connects to your chosen audio device for portable stereo sound.
Measuring only 47mm high and 105mm wide with a depth of 23mm, the Micro unit is amazingly compact in size yet produces crisp, vibrant acoustics. This dual speaker is easy to use. Simply connect the Micro to your iPhone, iPod, Mp3 player, computer, DVD or VCD player for amplified stereo sound. In addition, the Micro has the added bonus of saving on disposable batteries; just plug in to a mains connection to recharge the long-life Lithium-ion battery. 
The Micro is available in a choice of 3 colours: Black-Red, Black-Pink or Black-Silver   
Main Features:
Rechargeable Lithium-ion battery for 3 hours of playtime
Wireless & earphone-free stereo sound - ideal for private listening
Charge via USB cable (included)
Dynamic & rich audio quality
Built-in amplifier for dynamic sound
12 month manufacturer's warranty
Availability:
The new Micro is available at SRP £19.99 inc VAT from Amazon and iWorld. 
About Cygnett:
Cygnett was created in 2003. Cygnett has become known as a fresh, youthful and technically savvy brand that quickly established a reputation for giving a new generation of music lovers the ability to enhance, expand & integrate their iPod & MP3 experience. 
With an ever-evolving range of iPod & MP3 accessories, Cygnett manufactures everything from fashionable cases to high-end speaker systems. Renowned for its fun and innovative approach to technology, Cygnett takes its product development seriously. With a global network of design, sales, production and marketing teams, we band together to ensure that all Cygnett products are design-driven, user-friendly and affordable.
With its headquarters in Australia, Cygnett is an international company with offices around the globe. Its expansive distribution network and skilled resources ensure that all products are quick to market so that customers have access to the latest in iPod & MP3 accessory technology when they need it.