New Cygnett Unison i-TS for iPhone and iPod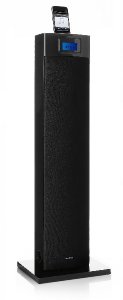 New Cygnett Unison i-TS for iPhone and iPod
Elevate your iPod or iPhone music to a new level of listening!
Cygnett, leading developer of an innovative, high quality range of accessories for iPod, iPhone and MP3 players, has announced the new Unison Tower Speaker for iPod and iPhone. This system of speakers charges your iPod or iPhone whilst it is playing. 
A statement of powerful and precise performance, this freestanding vertical speaker system ensures crisp and authentic playback of every song on your iPhone or iPod playlist. With a built in AM and FM radio tuner and alarm clock, you can choose to wake up to the radio or your own choice of song! 
Main Features:
2.1 stereo channel output 
Built in clock display
Alarm clock function - wake up to your own tunes
Built in AM and FM radio with automatic tuning
LED backlit display (choice of white or blue light)
Plays and charges your iPod or iPhone
Remote control included
Composite/S-video output for iPhone and most iPods
12 month manufacturers warranty
Availability:
 The new Unison Tower Speaker System is available immediately at £199.99. For information about where to buy please see: 
http://www.cygnett.com/pages/where_to_buy_uk.htm
About Cygnett:
Cygnett was created in 2003. Cygnett has become known as a fresh, youthful and technically savvy brand that quickly established a reputation for giving a new generation of music lovers the ability to enhance, expand & integrate their iPod & MP3 experience. 
With an ever-evolving range of iPod & MP3 accessories, Cygnett manufactures everything from fashionable cases to high-end speaker systems. Renowned for its fun and innovative approach to technology, Cygnett takes its product development seriously. With a global network of design, sales, production and marketing teams, we band together to ensure that all Cygnett products are design-driven, user-friendly and affordable.
With its headquarters in Australia, Cygnett is an international company with offices around the globe. Its expansive distribution network and skilled resources ensure that all products are quick to market so that customers have access to the latest in iPod & MP3 accessory technology when they need it.