Anime Review Roundup
ADV No More!
In case you have missed the news, last week ADV ceased to exist as a commercial entity, as detailed in a complex emission of legalese from their
website
, beginning with, "A.D.VISION, INC. CONCLUDES SERIES OF ASSET TRANSACTIONS". Not to worry if you fear your favourite back catalogue titles, the talent, and the creative drive will all suddenly vanish, as this is a prime example of the 21st Century corporate bait and switch. You see it a lot these days, when companies get into financial and contractual trouble, they divide up the assets from the liabilities, the profits from the debts, and from the ashes of the old, beleaguered company, a phoenix arises, or in this case several, to carry on with the same staff and the same business as before, while some poor schmuck is left holding the debts of the old name. In this case, it's more of a hydra than a phoenix, as several companies have arisen from ADV, streamlined and raring to do business.
Sentai Filmworks
has licenced Blue Drop, Polyphonica, Special A, Tears to Tiara, and the second season of You're Under Arrest, and newly formed distributor Section23 Films will unleash them to the US this November. Sentai was spun-off from ADV earlier this year, and Section23 is one of the newly formed heads of the hydra, so it all looks like business as usual.
Still, it's a sad day to see the ADV name go, as for over 10 years, it has been at the forefront of bringing anime to the masses, and became synonymous with quality, care and love given to shows, above and beyond the call of duty. Not every anime distributor takes the effort to put vidnotes on their comedy anime releases, making sure that most of the gags aren't lost in translation, and not every anime distributor takes a chance on the niche titles, those odd little quirky releases that may not appeal to everyone, but will strike a chord with some, and thereby ensuring that the Western anime diet is a vivid and varied experience.
What that means for ADV in the UK is unclear at this time, although ADV's UK branch closed early last year, and it has been ADV releasing directly through Lace Distribution since then. Also, new releases have been conspicuous by their absence, and most of ADV's releases of the last eighteen months were singles belatedly repackaged as cheap boxsets. Notably, there have been no new releases since this summer, and nothing new has been lined up, even on the re-release front. But the existing stock is still there, and as long as profits are being made… I'm guessing that the ADV label in the UK may outlive its US counterpart yet. I wouldn't count on those new Section23 titles coming to the UK anytime soon though, as to keep costs down, they are being released subtitled only in the US, and apparently we in the UK are too fond of dubs for that to fly here.
Read more at
Anime News Network
New Titles at Anime Network
That's another of the ADV former subsidiaries that is still in rude health. If you recall, Anime Network's online broadcaster expanded its coverage to the UK, bringing subscription anime viewing to PCs around the nation. I wasn't all that eager at the time, noting that most of those old titles were already available on DVD in the UK. That redundancy has been rectified now, as announced on the
ADV blogspot
.
"Anime Network has just made available new offerings for the Online Player which launched in early August for the UK: Alice Academy, Babel II-Beyond, Cosmo Warrior Z, Gun Frontier, Izumo, Koi Koi 7, Lost Universe, Metal Fighter Miku, SuperGals!, El Hazard The Wanderers and the much requested, Revolutionary Girl Utena."
That's a whole lot of anime that hasn't been seen in the UK before. If you're intrigued, tantalised, and in any way curious about these shows, then whip out your credit card and head forth to the
Anime Network
Tokyopop and Kodansha Divorce
More bad news if you're a manga fan. Major manga publisher Tokyopop has let its Kodansha licences lapse, no doubt a response to the current financial and economic climate. That's a lot of manga to lose, and we are talking titles like Ghost in the Shell, Akira, Initial D, Love Hina, Chobits, Beck, Great Teacher Onizuka, and many, many more.
Anime News Network
(who else) carry the story, but details of just what has been lost, and what has been rescued can be found at the
about.com blog
.
Many of these titles have just naturally faded to out of print status, as publications are wont to do, but some titles have been left in limbo, incomplete. Fortunately, it seems that other publishers like Del Rey and Dark Horse have leapt to the rescue, and CLAMP fans will have omnibus editions to look forward to, and you seriously didn't expect Ghost In The Shell and Akira to vanish from shop shelves?
How Much Negima Can One Man Take?
As is the way with popular properties and franchises, the search for profit is relentless, and in an effort to squeeze as much as possible from a title, spin-offs, sequels and tie-ins abound. Yet more Negima is coming our way, this time in the form of an animated feature film, hinted at earlier by Negima creator Ken Akamatsu, and now confirmed for release in 2011 by producers Kodansha.
Anime News Network
has the skinny.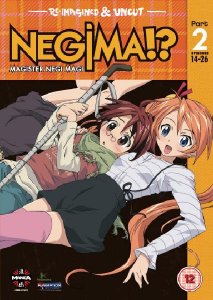 I asked that question because guess what I have been reviewing this week? My sole contribution to the cause this past week has been the review of
Negima!? Series 2 Part 2
. It's the concluding half of the re-imagined series, all thirteen episodes worth, that sees ten-year-old schoolteacher, and secret wizard Negi Springfield, and his class of 14-year-old girls, sucked into a parallel world where they have to fight against all manner of weirdness. Featuring SHAFT's unique visuals, this series ditches the manga storyline to do something original, and I was more than entertained by the first half of the series. See if the second half has a similar effect by clicking on my review.
Depending on which website you visit, Manga Entertainment release Negima!? Series 2 Part 2 either today, or on the 28th of September, and it should be available in all good anime emporia.