Anime Review Roundup
The Good News or The Bad News
The Bad News - Revelation Hiatus
The good news isn't all that amazing, while the bad news isn't all that shocking, but it's all the news I have, so take heed. Revelation Films, who for the last few years have been releasing Funimation titles in the UK, have gone on hiatus with their anime schedule. A forum post spotted at
Anime UK News
, and an e-mail to confirm…
Quote:
Thank you for your email.

Unfortunately we will no longer be releasing the remaining volumes of Beck as previously scheduled and currently do not have plans to release other FUNimation titles this year.

I would advise that you contact FUNimation directly if you need any more information about their plans with the UK releases.
That's with immediate effect by the way, and the Peach Girl final volume and complete boxset release that was due in a couple of weeks have been cancelled. This may not be anything to worry about, as 2008 saw a similar hiatus in September that lasted until January. However, the advice to contact Funimation directly doesn't bode well, implying that the decision to complete their outstanding series may well be out of Revelation's hands. So if you are waiting on that final volume of Peach Girl, two volumes of Beck, two volumes of Suzuka, three volumes of Hell Girl S1, and three volumes of School Rumble S1, you know where to fire your polite and concerned missives to.
The Good News - Anime Network Launches In The UK
It's plastered on all the anime websites, but I figured I'd reproduce it here as well.
Press release…
Quote:
Anime Network launches in UK

UK ANIME FANS CAN NOW WATCH WHAT THEY WANT, WHEN THEY WANT, AND IT WON'T COST THE EARTH!

HOUSTON, TEXAS, USA, 6th AUGUST 2009

As a recent article in the Guardian newspaper pointed out, UK anime fans have received slim pickings from the nation's broadcasters for the last few years. Dedicated cable channels have come and gone (mostly gone), and the mainstream broadcasters only think of anime when they're planning a Japan season, or when Jonathan Ross is given free rein to make shows about his otaku side.

Well now things are changing. This week the Anime Network, America's leading anime channel, launched its popular video-on-demand service in the UK, at a recession-busting monthly price of only £4.95. This is the first legitimate streaming video service available to UK anime fans (and those who are just curious), from the company behind the UK's first dedicated anime block, which appeared on Sky 195.

The Anime Network offers access to a huge library of films and series, including Elfen Lied, Lady Death, This Ugly Yet Beautiful World, Azumanga Daioh and Cromartie High School, all for a monthly subscription fee far less than most anime DVDs. This is not even mentioning the many free sample episodes available without even needing to sign up in some cases!

Not only that, but the Anime Network online forums are some of the liveliest, most well-informed (and naturally well-opinionated) anime forums you can find online, and Anime Network UK will include UK-specific forums as well as allowing users the chance to talk anime with other fans worldwide.


Anime Network offers three levels of content...

Free content enables newcomers to sample a few episodes to see if anime is to their taste, and regular users to catch the first episode of something new, all without having to sign in.

Registered content is the next stage - just take a couple of minutes to set up a free account, and a load more episodes will be available. You will also have access to our extensive forums, where you can ask other fans for advice, or just chat anime.

Subscribed content is the ultimate level. For just £4.95 every month, you will have access to absolutely every show on the website, as soon as it comes out. You'll be able to gorge yourself on non-stop anime, 24 hours a day, from hundreds of hours of available series.

Just visit www.theanimenetwork.co.uk to take part in the full on-demand anime experience.
Anime Network is ADV's online channel, and seeing it finally come here does bode well for the company, which has been spinning its wheels for almost a year now. But I can't help feeling 'glass half empty' at all this. It feels too little too late.
One thing, this is ADV's back catalogue, there's nothing new there in any case, and we in the UK get a small subset of the US catalogue, those shows for which online broadcast licenses for the UK exist. There are one or two titles that haven't been released here on DVD though.
They are all dubbed, no subtitled options available.
The pricing model is questionable, especially as UK viewers will pay more for less, compared to US subscribers who get the full catalogue for a lower price.
In the US, you have the option of video on demand through cable and satellite providers. In the UK, you only have the online option as yet.
One or two episodes for free, and the rest for a fee may be sound business sense, but isn't all that competitive.
You see Crunchyroll got a jump on ADV with their more attractive pricing model. Subscribers get hi-def content, they get day and date simulcasts and no advertising, while non-subscribers have to wait an extra week, and be satisfied with a lower resolution (but still good quality) stream. Region restrictions aside, you get to see all the episodes for the price of an advert view. Also, Crunchyroll show new content, something that the Anime Network doesn't have at this time.
Still, it will be interesting to see how the Anime Network develops, and at least ADV are delivering online content in the UK, while Funimation have apparently forgotten that the UK exists now that they have their player working for US viewers once more. After eight weeks, promises start to sound hollow. If you want to try out the Anime Network, the link is in the press release, and one or two series are indeed available to view in their entirety without shelling out for a subscription. If you like dubs that is. And also, apparently just for today, Monday 10th, all videos are free for anyone who registers, and all subscriptions are half-price.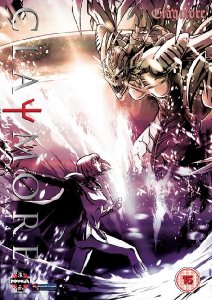 My first review of the week was
Claymore: Volumes 3 & 4
. The first two volumes were stylish, brutal, and downright addictive. It's a mediaeval-ish tale of demons, monsters and the half-monsters created to slay them. It could easily have been a 'blonde babes with swords bashing monsters of the week' show, but there is depth, intelligence and a downright convoluted (in a good way) story to follow. Watching this show is like putting the pieces of a jigsaw puzzle together, when you aren't being thrilled by the action, and I can't wait to see what the final picture looks like. That was my reaction to the first set. See if I still gush like a squealing schoolgirl over the second set by clicking on my review.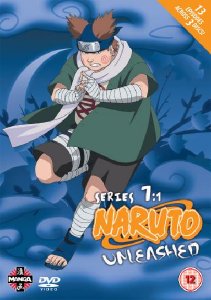 My final review took in three discs, not just two, as I a girded my loins (What is a gird anyway?) and prepared to take head-on the next instalment of Naruto filler in
Naruto Unleashed: Season 7 Part 1
. Sasuke's out of the picture, Sakura's training to be a nurse or something, and all that leaves is Naruto to go on missions that the writers dreamed up while waiting for the manga creator to release a new book or two. They aren't as good as the manga. They're not going to advance the main plot. But maybe, just maybe, they might entertain while we wait. It didn't look likely at the end of Season 6, but see if we strike it lucky with the 13 episodes at the start of Season 7.
It's all Manga Entertainment this week, and you can pick up Naruto Unleashed 7:1 on August 24th. You'll have to wait an extra week (try not to tear your hair out or chew down your fingernails) for Claymore Volumes 3 & 4, due on the 31st of August.