24: Season 4 (UK)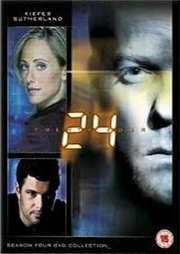 7 disc set
Certificate: 15
Running Time: 999 mins
Retail Price: £49.99
Release Date:
Content Type: TV Series
Synopsis:
`24` is an innovative television drama, where the entire series takes place in one day. Each of the 24 episodes covers one hour, told in real time.
18 months after `24` Day 3, CTU has a new leader, Erin Driscoll (Alberta Watson), a steely government agent who made firing Jack Bauer (Kiefer Sutherland), one of her first priorities on taking up command.

After the explosion of a commuter train, Jack, who is now working for Secretary of Defense James Heller (William Devane), and who is also romantically involved with Heller`s married daughter, Audrey Raines (Kim Raver), suddenly finds himself heading back to CTU for a meeting with Driscoll.

Jack believes that the train explosion is a prelude to bigger things to come...
Special Features:
`Breaking Ground: Building The New CTU` featurette. `Blood On The Tracks` featurette. `Lock And Load` featurette. `The Longest Day` music video. 40 deleted/extended scenes with optional commentary.

Video Tracks:
Widescreen Anamorphic 1.78:1

Audio Tracks:
Dolby Digital 5.1 English

Subtitle Tracks:
CC: English

Directed By:
Jon Cassar
Stephen Hopkins
Winrich Kolbe
Bryan Spicer
Davis Guggenheim
Frederick King Keller
Paul Shapiro

Written By:
Robert Cochran
Howard Gordon
Chip Johannessen
Andrea Newman
Joel Surnow
Michael S. Chernuchin
Robert Cochran
Lawrence Hertzog
Michael Loceff
Joel Surnow
Virgil Williams

Starring:
Kiefer Sutherland

Casting By:
Debi Manwiller

Soundtrack By:
Sean Callery

Director of Photography:
Rodney Charters
Peter Levy

Editor:
David Latham
David B. Thompson
Scott Powell
Chris G. Willingham

Costume Designer:
James Lapidus

Production Designer:
Joseph A. Hodges
Carlos Barbosa

Producer:
Robin Chamberlain
Andrea Newman
Cyrus I. Yavneh
Michael S. Chernuchin
Paul Gadd
Michael Loceff

Executive Producer:
Robert Cochran
Howard Gordon
Stephen Hopkins
Tony Krantz
Brian Grazer
Ron Howard
Joel Surnow