Harvie Krumpet (UK)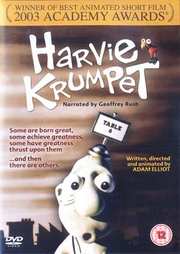 Harvie`s zest for living rarely dwindles
Certificate: 12
Running Time: 28 mins
Retail Price: £9.99
Release Date:
Content Type: Movie
Synopsis:
Winner of the 2004 Academy Award for Best Short Animated Film. Harvie Krumpet`s strangely life-affirming story is one cursed by random streaks of bad luck, questionable fortunes and being in the most bizarre places at the most inopportune times for the most hilarious and touching eventualities. From a childhood in Eastern Europe to an adulthood as an immigrant Australian, Harvie`s zest for living rarely dwindles and his capacity for collecting his precious "fakts" of life never wavers...
This release also features 4 short films by director Adam Elliott that trace the origin of Harvey: Uncle (1996), Cousin (1998), Brother (1999) and Human Behavioural Case Study (1996).
Special Features:
Director`s commentary. Storyboard featurette. Galley of character model shots.

Directed By:
Adam Elliot

Written By:
Adam Elliot

Starring:
John Flaus
Kamahl
Julie Forsyth
Geoffrey Rush