Caveman (UK)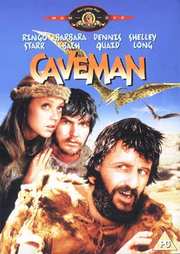 Back when you had to beat it before you could eat it...
Certificate: PG
Running Time: 88 mins
Retail Price: £12.99
Release Date:
Content Type: Movie
Synopsis:
Prehistoric life is tough for poor, lovesick Atouk (Ringo Starr). As the smallest and weakest caveman of his tribe, he is unable to win the heart of the beautiful Lana (Barbara Bach) and is banished from the cave by Lana`s mate, Tonda (John Matuszak), the hulking chief of the tribe. Forced to wander the ancient wilderness, Atouk meets a variety of unlikely allies who, after hearing his story, want to help him get back in with his clan. And before Atouk knows it, he`s the chief of his own tribe of misfits. Leading his rag-tag band of oddballs into battle, Atouk has one mission in mind: to knock Tondo off his throne and carry Lana away by her hair!
Special Features:


Video Tracks:
Widescreen Anamorphic 1.85:1

Audio Tracks:
Dolby Digital Mono English
Dolby Digital Mono Spanish
Dolby Digital Mono German
Dolby Digital Mono French

Subtitle Tracks:
French
CC: German
Swedish
Finnish
Romanian
CC: English
Greek
Dutch
Danish
Norwegian

Directed By:
Carl Gottlieb

Written By:
Carl Gottlieb
Rudy De Luca

Starring:
Cork Hubbert
Jack Gilford
Shelley Long
Dennis Quaid
Ringo Starr

Casting By:
Lynn Stalmaster

Soundtrack By:
Lalo Schifrin

Director of Photography:
Alan Hume

Editor:
Gene Fowler Jr.

Costume Designer:
Robert Fletcher

Production Designer:
Philip M. Jefferies

Producer:
Lawrence Turman
David Foster

Distributor:
Metro Goldwyn Mayer