French Connection 1 & 2 (3 Disc Set) (UK)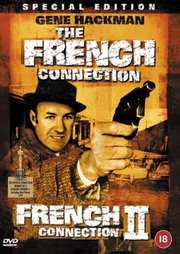 Featuring two of the 1970s` most exciting action pictures
Certificate: 18
Running Time: 0 mins
Retail Price: £29.99
Release Date:
Content Type: Movie
Synopsis:
The French Connection
Detectives Jimmy "Popeye" Doyle (Gene Hackman) and his partner Buddy "Cloudy" Russo (Roy Scheider) work the crime streets of New York. On the basis of a tip off and some curious goings-on from various known criminals, they use undercover surveillance on a French gang who are threatening to pull off a huge drugs import deal worth millions of dollars.

Initially faced with scepticism from their department, Popeye is convinced the deal is going to happen real soon. But with no hard evidence and some previously failed raids, the duo are taken off the case. Doyle continues with his unorthodox policing methods and stumbles upon an international drug deal between the New York mobsters and their French counterparts. Doyle`s nemesis is an urbane French drug smuggler Alain "Frog One" Charnier (Fernando Rey) who seems to outwit Doyle every step of the way.

Based on the novel by Robin Moore and the actual experiences of two New York City cops in the biggest narcotics raid of 1962 - Sonny Grosso and the late Eddie Egan, The French Connection is a fast-paced gritty documentation of the seedy vice underworld.

The French Connection won 5 Oscars at the 1972 Academy Awards, including Best Picture, Best Actor for Gene Hackman and Best Director for William Friedkin (later director of The Exorcist). Presented in Dolby Digital 5.1 Audio.

French Connection 2
The French Connection was only the beginning - this is the climax. Popeye Doyle heads for Marseilles, France, to capture Charnier, the powerful drug dealer who eluded him in the first film. But Doyle doesn`t realise that his fellow policemen have set him up. As a result, he`s kidnapped by Charnier`s goons, who drug him with enough heroin to leave him addicted to the deadly narcotic. Doyle`s attempt to kick the habit takes him to hell and back, but once back to health, he becomes obsessed with catching Charnier, and won`t let anything stand in his way. Presented in Dolby Digital 2.0 Audio.

This ultimate release on DVD includes cast and crew commentaries on both films including Gene Hackman, Roy Scheider and William Friedkin. Also included on the third disc are two documentaries about the story behind The French Connection. The first is "The Poughkeepsie Shuffle", a BBC documentary presented by Mark Kermode that tracks the film from inception to reaction via interviews with those connected to the film including some of the real people the characters are based on. The second documentary is "Making the Connection: The Untold Stories" which provides even more interviews with cast, crew and beyond, with a focus on the aftermath and how the film was received. The disc also includes a selection of seven deleted scenes, stills galleries, a William Friedkin featurette and the original theatrical trailers.
Special Features:
"THE FRENCH CONNECTION (Special Features Disc)"
"The Poughkeepsie Shuffle" BBC Documentary (53 mins)
Making the Connection: The Untold Stories of The French Connection" Documentary (60 mins)
William Friedkin Featurette (17 mins)
Seven Deleted Scenes (approx. 10 mins in total)
Three Stills Galleries
Theatrical Trailer

"FRENCH CONNECTION 2"
Commentary by director John Frankenheimer
Commentary by Gene Hackman and producer Robert Rosen
Two Stills Galleries
Three Theatrical Trailers

Video Tracks:
Widescreen Anamorphic 1.85:1

Audio Tracks:
Dolby Digital 5.1 English
Dolby Digital Stereo 2.0 English

Subtitle Tracks:
Hebrew
Polish
Czech
Swedish
Finnish
Turkish
CC: English
Hungarian
Danish
Norwegian

Directed By:
William Friedkin

Written By:
Ernest Tidyman
Robin Moore

Starring:
Bill Hickman
Frédéric de Pasquale
Marcel Bozzuffi
Tony Lo Bianco
Roy Scheider
Fernando Rey
Gene Hackman

Casting By:
Robert Weiner

Soundtrack By:
Don Ellis

Director of Photography:
Owen Roizman

Editor:
Gerald B. Greenberg

Costume Designer:
Joseph Fretwell III

Producer:
Kenneth Utt

Executive Producer:
G. David Schine

Distributor:
Twentieth Century Fox