Last Metro, The (UK)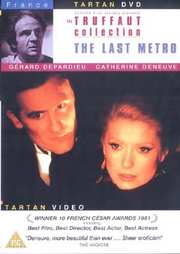 One of Truffaut`s most highly acclaimed and popular films
Certificate: PG
Running Time: 110 mins
Retail Price: £19.99
Release Date:
Content Type: Movie
Synopsis:
Winning an incredible ten French Academy Awards in 1981, `The Last Metro` is one of Truffaut`s most highly acclaimed and popular films. Starring Catherine Deneuve and Gerard Depardieu in magnetic performances, the story is set in Paris, 1942, during the Nazi occupation of France.
When Lucas Steiner (Heinz Bennet), the Jewish owner of the Montparnasse Theatre, is forced into hiding, his wife and lead actress Marion (Catherine Deneuve) takes over. Desperate to keep both the troupe and Lucas alive she stages a new play, which must be a success to continue. She hires the womanising actor Bernard Granger (Gerard Depardieu) for the lead in their next production. Just as the actors begin their rehearsals, an anti-semetic journalist ensconces himself in the theatre, creating an atmosphere of fear and insecurity. Will he discover Lucas`s hideaway and the political affiliations of the group`s lead actor?

Truffaut delivers a captivating study of of artists (the actors) struggling against the odds (the Nazis) and a compelling insight into the atmosphere of wartime Paris and the theatre, set against a backdrop of exquisite period detail.
Special Features:
Introduction to the film
Audio commentary
Original theatrical trailer
Francois Truffaut collection trailers
Archival Documentary Material: Francois Truffaut Interviewed upon the film`s release (1980)
Truffaut and the pleasure of reading (1980)
The Cesar Awards 1981
An unreleased scene

Video Tracks:
Widescreen Anamorphic 1.78:1

Audio Tracks:
Dolby Digital Stereo 2.0 French

Subtitle Tracks:
English

Directed By:
François Truffaut

Written By:
François Truffaut
Suzanne Schiffman
Jean-Claude Grumberg

Starring:
Maurice Risch
Andréa Ferréol
Heinz Bennent
Jean Poiret
Gérard Depardieu
Catherine Deneuve

Soundtrack By:
Georges Delerue

Director of Photography:
Néstor Almendros

Editor:
Martine Barraqué

Costume Designer:
Lisele Roos

Production Designer:
Jean-Pierre Kohut-Svelko

Producer:
François Truffaut

Distributor:
Tartan Video