Wild Wild West (UK)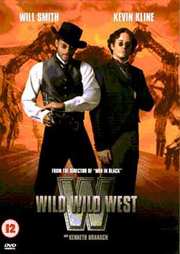 It`s a whole new west. July `99
Certificate: 12
Running Time: 102 mins
Retail Price: £19.99
Release Date:
Content Type: Movie
Synopsis:
If you think special government agent James West is fast with a six-shooter, wait until he lays a quip on you!

Megahit star Will Smith plays West, reuniting with Men In Black director Barry Sonnenfeld in an effects-loaded, shoot-from-the lip spectacular. Kevin Kline plays fellow agent and crackerjack inventor Artemus Gordon, teamed with West on a daring assignment: stop legless Dr Arliss Loveless (Kenneth Branagh) and his diabolical plot for a Disunited Stated of America. Salma Hayek is mysterious adventuress Rita Escobar.

And all manner of geared-up 1860s gadgets -from belt-buckle derringers to surprise-packed billiard balls, to a walking, eight-storey, steam-and-steel tarantula - help make Wild Wild West a Wow Wow West!
Special Features:
Interactive Menus
Scene Access
Behind-The Scenes Documentaries
Will Smith and Enrique Iglesias Music Videos
Stills Gallery
Theatrical Trailer
For DVD-ROM Only: Behind-The Scenes Clips
Two Genre Essays
The Steel Assassin Interactive Game
Web Events and Chat Room Access
Original Theatrical Web Site

Video Tracks:
Widescreen Letterbox 1.85:1

Audio Tracks:
Dolby Digital 5.1 English

Subtitle Tracks:
Romanian
English
CC: English
Arabic
Bulgarian

Directed By:
Barry Sonnenfeld

Written By:
Peter S. Seaman
Jeffrey Price
Brent Maddock
John Thomas
S.S. Wilson
Jim Thomas

Starring:
M. Emmet Walsh
Salma Hayek
Kenneth Branagh
Kevin Kline
Will Smith

Casting By:
David Rubin
Ronna Kress

Soundtrack By:
Elmer Bernstein

Director of Photography:
Stefan Czapsky
Michael Ballhaus

Editor:
Jim Miller

Costume Designer:
Deborah Lynn Scott

Producer:
Neri Kyle Tannenbaum
Barry Sonnenfeld
Chris Soldo
Graham Place
Jon Peters
Doug Lodato

Executive Producer:
Bill Todman Jr.
Joel Simon
Kim LeMasters
Barry Josephson
Tracy Glaser

Distributor:
Warner Bros