Very Annie Mary (UK)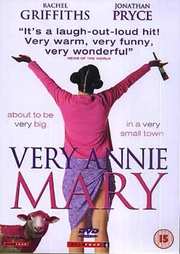 About to be very big in a very small town
Certificate: 12
Running Time: 0 mins
Retail Price: £19.99
Release Date:
Content Type: Movie
Synopsis:
When Annie-Mary (Rachel Griffiths) was sixteen she won the most prestigious singing prize in Wales, The Eisteddfod. She was offered a scholarship to study singing in Milan, but had to turn it down because her mother was dying. Since then she hasn`t sung a note.

Now Annie-Mary is an awkward and secretly rebellious twentysomething living under the shadow of her chapel strict father, Jack Pugh (Jonathan Pryce), who is known to all as `the voice of the valleys`. A baker by trade, Jack is a monster of a man who delivers his loaves in a Luciano Pavarotti mask and uses his daughter as a human hot water bottle when his feet get cold.

Annie-Mary dreams of breaking free, but her father has a stroke and demands even more of her time. When she finally does rebel, the whole village becomes involved. But it is only when she finds her voice again that Annie-Mary finds her freedom.
Special Features:


Directed By:
Sara Sugarman

Written By:
Sara Sugarman

Starring:
Ruth Madoc
Kenneth Griffith
Matthew Rhys
Ioan Gruffudd
Jonathan Pryce
Rachel Griffiths

Casting By:
Sally Osoba
Joyce Gallie

Soundtrack By:
Stephen Warbeck

Director of Photography:
Barry Ackroyd

Editor:
Robin Sales

Costume Designer:
Caroline Harris

Production Designer:
Alice Normington

Producer:
Lesley Stewart
Damian Jones
Graham Broadbent

Distributor:
VCI