Stranded (UK)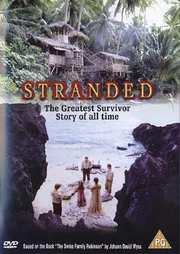 An adaptation of Johann David Wyss`s The Swiss Family Robinson
Certificate: PG
Running Time: 175 mins
Retail Price: £15.99
Release Date:
Content Type: Movie
Synopsis:
An adaptation of Johann David Wyss`s The Swiss Family Robinson. Having been accused of spying for Napoleon against the British, David Robinson (Liam Cunningham), along with his wife (Brana Bajic), daughter Sarah (Bonnie Wright) and three sons, Fritz (Jesse Spencer), Ernst (Neil Newbon) and Jacob (Charlie Lucas) is assigned to a jail ship bound for an Australian penal colony. Tragedy strikes mid-voyage when they are blown off course by a violent storm. Eventually the family is washed up on the sands of a tropical island near New Guinea. On the shore are provisions from the wreckage; in the flourishing jungle is a fresh-water stream and in their hearts is the belief that they will be rescued.
As days turn into months and months into years, the Robinsons not only accept their fate, they embrace it. In this idyllic Eden they are together and happy; they have conquered the elements and believe that they can survive anything. But the atmosphere on the island begins to change. Unsettling signs of a mysterious island tribe are uncovered and a ship, manned by bloodthirsty pirates, looms on the horizon. Bracing themselves for the unexpected, the family soon finds their paradise under siege, their blissful dreams at risk and their future as unpredictable as the jungle they once called home.
Special Features:


Video Tracks:
Widescreen Anamorphic 1.78:1

Audio Tracks:
Dolby Digital Stereo 2.0 English

Directed By:
Charles Beeson

Written By:
Chris Harrald
Dominic Minghella
Greg Dinner
Anton Diether
Johann David Wyss

Starring:
Neil Newbon
Jesse Spencer
Roger Allam
Brana Bajic
Liam Cunningham

Casting By:
Sally Osoba
Joyce Gallie

Soundtrack By:
Stanislas Syrewicz

Director of Photography:
Tamas Nyerges
Ryszard Lenczewski

Editor:
David Blackmore

Costume Designer:
Alfonsina Lettieri

Production Designer:
Gary Williamson

Producer:
Dyson Lovell

Executive Producer:
Robert Halmi Sr.

Distributor:
Warner Vision