Mexican, The (UK)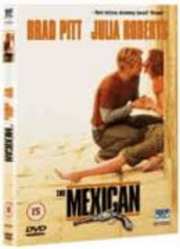 Love with the safety off
Certificate: 15
Running Time: 123 mins
Retail Price: £19.99
Release Date:
Content Type: Movie
Synopsis:
`The Mexican` is an explosive adventure set south of the American border. Hapless mob stooge Jerry (Brad Pitt) has been forced to work for his current employers after accidentally getting mob boss Margoles (Gene Hackman) arrested. Now Margoles is due for release and Jerry is free after one last job - a trip to Mexico to retrieve a priceless antique gun known as `The Mexican`.
Jerry`s girlfriend Samantha (Julia Roberts) has had enough of her boyfriend`s lifestyle, and decides to start a new life for herself in Las Vegas. Unfortunately for Samantha, the mob have no intention of letting Jerry fail this time and so they send gay hitman Leroy (James Gandolfini) to take Samantha hostage, giving Jerry an extra incentive to succeed.

While Jerry competes against other interested parties who will stop at nothing to get the pistol, Samantha swaps advice on men and relationships with the big hearted hitman. With everybody`s interest in retrieving `The Mexican` reaching fever pitch, twists and turns are aplenty, leaving nothing as it seems...
Special Features:
Making of Featurette
Director`s Commentary
Deleted Scenes with Commentary
Two Theatrical Trailers

Video Tracks:
Widescreen Anamorphic 2.35:1

Audio Tracks:
Dolby Digital 5.1 English

Subtitle Tracks:
English

Directed By:
Gore Verbinski

Written By:
J.H. Wyman

Starring:
Sherman Augustus
Bob Balaban
J.K. Simmons
James Gandolfini
Julia Roberts
Brad Pitt

Casting By:
Denise Chamian

Soundtrack By:
Alan Silvestri

Director of Photography:
Dariusz Wolski

Editor:
Craig Wood

Costume Designer:
Colleen Atwood

Production Designer:
Cecilia Montiel

Producer:
Paul Hellerman
Lawrence Bender
William S. Beasley
John Baldecchi

Executive Producer:
J.H. Wyman
William Tyrer
Aaron Ryder
Christopher Ball

Distributor:
DreamWorks Pictures