Review of Qayamat Se Qayamat Tak
Introduction
While this film lacks the immediate impact needed for a spectacular romantic this movie, directed by the then newcomer Mansoor Khan, touches us viewers deeply because its of the way the characters are written out. In the characters, one can see a broad array of human emotions and basic traits; happiness, love, devotion, anger, duplicity, jealousy and sorrow. They are depicted correctly and very humanistic.
The cast perform their best and are memorable in the roles they perform. The music score remains one of the better works during the `weak` eighties. It still has the ability to be as melodious and as wonderful when they were first heard.
This was the first major film which both Aamir Khan and Juhi Chalwa received such massive fame and fortune. Their performances in this film justified thier success and they both continue to be strong leaders in the Indian film industry.
Young Aamir khan, who was acting in small budget films like Holi (1986) and Raakh (1988), made sure that this film was advertised and actually went on to the street of Bombay to put posters up on the walls himself. When the film was a box-office hit the producers asked Aamir if he could keep the fact that he is married a secret as he had gained many young females fans.
Juhi had already done minor roles in films like Sultanate (1987) and Chandni (1988) before doing this film. Since then she has formed a major production company with fellow actor Shah Rukh Khan and director Aziz Mirza.
Both Aamir and Juhi signed other films together, like Love Love Love (1988) & Tum Mere Ho (1989), inorder to try and receive the same success once again. But this was not to be and both parted ways. Aamir Khan then went on to become an acclaimed actor with films like Dil (1990), Jo Jeeta Wohi Sikandar (1993), Ishq (1997), Ghulam (1997), Sarfarosh (1998) & Lagaan (2001), which he also produced. Juhi too tasted success with films like Raju Ban Gaya Gentleman (1994), Lootere (1996), Ishq (1997), Yes Boss (1997) and Deewana Mastana (1998).
The director, Mansoor Khan, went on to make many acclaimed movies that have impressed viewers with its subject and technical values. With the super hit Jo Jeeta Wohi Sikandar (1993), critically acclaimed Akele Hum Akele Tum (1996), and the recently successful movie Josh (2000).
Never the less Qayamat Se Qayamat Tak is a reminder that Indian romantic films were not always dumb, or neither did it always abused the viewers mind. There were some Indian romantic films that did touch the heart and this film falls into that category.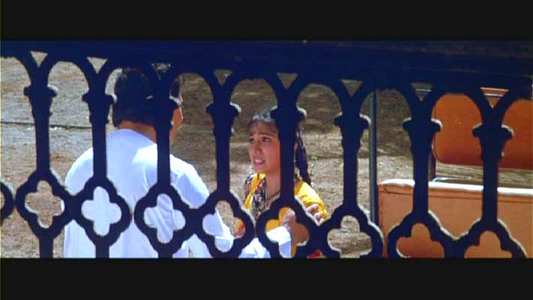 Video
The DVD is presented for the first time in its original aspect ratio of 2.35:1, which is anamorphically enhanced. This means that the director`s vision is originally intact. This is a welcome move by EROS who have done this for the first time on an older movie title.
The picture has tiny but undistracting signs of any compressed artefacts. Film grain is apparent in some scenes due to the original aged 35mm print. But they never interrupted with the picture or with the viewing.
Wear and tear can be seen during the duration of the film. However, it is limited to small blemishes in the form of black/white dust marks and dots randomly appearing during reel changes. Once again this was expected from the damaged 35mm print used and for that reason it failed to interrupt viewing patterns.
The picture has excellent sharpness detail which conveys out information that revels details that makes it clear and easy to understand. There are some slight shimmering and moiré effects present on this disc but they won`t bother you that much and rarely create any problems with viewing.
The colour fidelity is just below average, displaying some moments of overly colour bleeding. Saturation is at times incorrect as flesh tones look purple in places. The disc however does have one good point about it, dark and contrast details are managed well. The dark jungle scene with Raj and Reshmi is a very good example as much can be seen during this scene, with ease.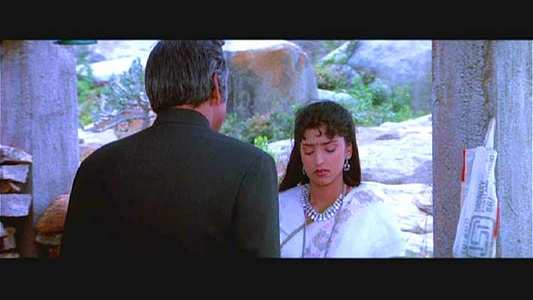 Audio
The sound on this disc is in Dolby Digital 5.1 remixed from a mono soundtrack. The sound is poorly presented as there are moments of sound distortion. The audio is a mono track panned into all five channels. The result sounds like your watching the film in a hollow cave, which is quite distracting. Slight hissing can be detected as well.
I would have preferred it if the film was presented in its original format of a 1ch or 2ch mono track. It might have made the film sound a whole lot better, and much more audible.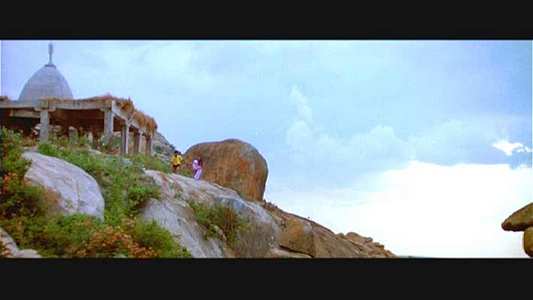 Features
The menus are animated with clips and the soundtrack of the film being looped. They are poorly designed, and has easy navigation. The optional English subtitle track is clear and neatly translated. There are no other features.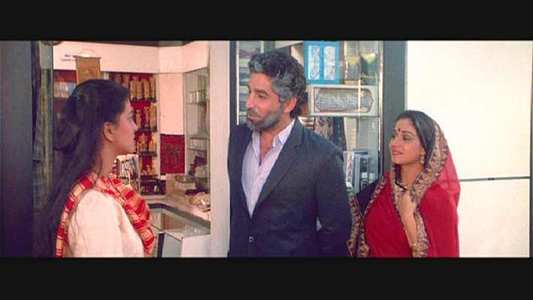 Conclusion
This is a fair attempt from EROS on an older title. The picture does the best it can as the original 35mm print was affected by age and it clearly shows on this DVD.
Since this title won`t get any better on DVD I would recommend fans of the film to purchase this title. For those just interested in the film I would at least recommend you rent it first before buying the disc.