In the Mood For Love (Special Edition) (UK)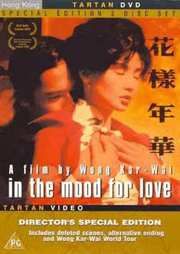 A film by Wong Kar-Wai
Certificate: PG
Running Time: 94 mins
Retail Price: £22.99
Release Date:
Content Type: Movie
Synopsis:
This special edition two-disc set presents a vast and sumptuous array of the very best of the director`s selected additional features. The special bonus features will satisfy the longing for audiences who have been seduced by In The Mood For Love and its timeless beauty, style and sensuality.
Hong Kong, 1962, Chow (Tony Leung - Happy Together, Hard Boiled) is a junior newspaper editor with an elusive wife. His neighbour, Li-zhen (Maggi Cheung - Days of Being Wild, Irma Vep) is a secretary whose husband seems to spend all his time on business trips. They become friends, making the loney evening more bearable. As their relationship develops they make a discovery that chagnes their lives forever...

In this sumptuous exploration of desire, internationally acclaimed director Wong Kar-Wai (Chunking Express, Happy Together, Fallen Angels) creates a world of sensuality and longing that will leave your breathless. This film has recieved undisputed international critical and industry acclaim, winning awards at Cannes 2000 for best actor, cinematography and editing.
Special Features:
Interactive Menus
Scene Access
Original Trailer
Soundtrack
Deleted Scenes
Alternative Ending
Interview with Wong Kar-Wai
Wong Kar-Wai World Tour
On-set Report
Teaser Trailers
International Trailers
Promotional Trailers Reel
Cast and Crew Biographies & Filmgraphics
Poster & Stills Galleries
Costume & Styling Documentaries
Analysis & Reflections on the Music
Promotional Spot for Soundtrack
Composer Biographies
Interactive Mah-jong Game
Recipes

Video Tracks:
Widescreen Anamorphic 1.78:1

Audio Tracks:
Dolby Digital Stereo 2.0 French
Dolby Digital Stereo 2.0 Cantonese
Dolby Digital Stereo 2.0 Spanish
Dolby Digital Stereo 2.0 Mandarin

Subtitle Tracks:
French
Italian
English
Spanish
German
Greek
Dutch

Directed By:
Kar-wai Wong

Written By:
Kar-wai Wong

Starring:
Ping Lam Siu
Lai Chen
Rebecca Pan
Maggie Cheung
Tony Leung Chiu Wai

Soundtrack By:
Mike Galasso

Director of Photography:
Mark Lee Ping-bin
Christopher Doyle

Editor:
William Chang

Production Designer:
William Chang

Producer:
Kar-wai Wong
William Chang

Distributor:
Tartan Video