Thing, The (UK)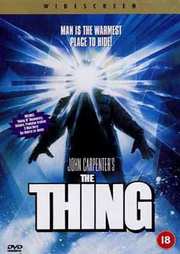 Man is the warmest place to hide
Certificate: 18
Running Time: 104 mins
Retail Price: £19.99
Release Date:
Content Type: Movie
Synopsis:
Horror-meister John Carpenter (Halloween, Escape From New York) teams Kurt Russell`s outstanding performance with incredible visuals to build this chilling version of the classic The Thing.

In the winter of 1982, a twelve-man research team at a remote Antarctic research station discovers an alien buried in the snow for over 100,000 years. Soon unfrozen, the form-changing alien wreaks havoc, creates terror and becomes one of them.
Special Features:
Interactive Menus
Scene Access
'JOHN CARPENTER'S THE THING: TERROR TAKES SHAPE' ((80:00, 8 Chapters) Main Titles (2:00), 'First Things First' (3:26), People, Places and Things' (14:54), 'Things to Come' (8:40), Any Thing Goes (1:43), Favorite Things (25:54), Things Change (19:22), 'Good Things Come…' (13:19)),
COMMENTARY (John Carpenter & Kurt Russell),
PRODUCTION BACKGROUND ARCHIVES (15 images),
CAST PRODUCTION PHOTOGRAPHS (12 images),
PRODUCTION ART AND STORYBOARDS (37 images),
LOCATION DESIGN (63 images),
PRODUCTION ARCHIVES (44 images),
OUTTAKES (3 images and Clips),
POST PRODUCTION (24 images),
THEATRICAL TRAILER,
DVD ROM (Web Links - http://homevideo.universalstudios.com/).

Video Tracks:
Widescreen Letterbox 2.35:1

Audio Tracks:
Dolby Digital 5.1 English
Dolby Digital Mono Spanish
Dolby Digital Surround 2.0 French
Dolby Digital Mono Polish
Dolby Digital Stereo 2.0 Italian

Subtitle Tracks:
French
Czech
Swedish
Finnish
English
Portuguese
Dutch
Danish
Norwegian

Directed By:
John Carpenter

Written By:
John W. Campbell Jr.
Bill Lancaster

Starring:
Keith David
Charles Hallahan
T.K. Carter
Kurt Russell
Richard A. Dysart
David Clennon
Wilford Brimley

Casting By:
Anita Dann

Soundtrack By:
Ennio Morricone

Director of Photography:
Dean Cundey

Editor:
Todd C. Ramsay

Production Designer:
John J. Lloyd

Visual Effects:
Albert Whitlock

Producer:
Lawrence Turman
Larry J. Franco
Stuart Cohen
David Foster

Executive Producer:
Wilbur Stark

Distributor:
Universal Pictures