Patlabor WXIII The Movie Ultimate Edition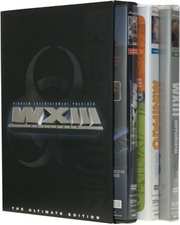 It's coming from Tokyo Bay.
Certificate:
Running Time: 99 mins
Retail Price: $59.98
Release Date: 2003
Content Type: Movie
Synopsis:
The SV2's giant Ingram Patrol Labors may be the ultimate in crime-fighting technology, but there are never enough to tackle every pending case. So when a mysterious series of deadly attacks targets Labor operators across Tokyo's harbor region, the job goes to "conventional" detectives Hata and Kusumi.

After all, just because it looks like a giant robot-created crime doesn't mean that it is a giant robot-created crime, and deep inside a web of half-truths and government cover-ups, the detectives uncover a secret biological weapons project called WWXIII. But while this secret may have been buried, it's still very much alive. And that's when having the armored force of the SV2 as backup may become a literal lifesaver for the entire city!
Special Features:
Special Features: MINIPATO 1-3
16-page "collectible" booklet
Layout gallery with the "Say Young" Radio program
WXIII project pilot film
Making of Featurettes
US Trailers.

Video Tracks:
1.85:1 anamorphic widescreen

Audio Tracks:
Dolby Digital 5.1 Surround English
Dolby Digital 5.1 Surround Japanese
Dolby Digital 2.0 Stereo Japanese

Subtitle Tracks:
English

Directed By:
Fumihiko Takayama

Written By:
Miki Tori
Masami Yuuki

Starring:
Hiroaki Hirata
Katsuhiko Watabiki
Miina Tominaga
Atsuko Tanaka
Michihiro Ikemizu
Ryunosuke Ohbayashi
Toshio Furukawa
Alfred Thor
David Lelyveld
Michelle Ruff
Kay Jensen
Bob Thomas
Richard Epcar
Richard Hayworth

Music From:
Kenji Kawai

Director of Photography:
Hisao Shirai

Editor:
Keiko Mizuta
Megumi Uchida
Mutsumi Takemiya
Takeshi Seyama

Producer:
Atsushi Sugita
Masahiro Fukushima

Executive Producer:
Kazumi Kawashiro
Keiichi Kosaka
Shigeru Watanabe

Distributor:
Pioneer