Patlabor - The Mobile Police TV Series Collection 2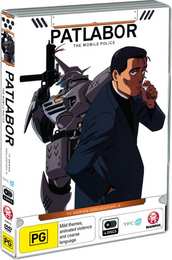 From the producers of Ghost in the Shell
Certificate: PG
Running Time: 546 mins
Retail Price: AU$ 69.95
Release Date: 2014
Content Type: TV Series
Synopsis:
With Kanuka having returned to New York, the search is on for her replacement as Ohta's backup. The pressure on Shinshi to step up is so severe that he contemplates leaving for a civilian job. At the same time, the powers that be are taking the opportunity to make some other sweeping changes, introducing an experienced new member to the team in the form of Takeo Kumagami.

However, the addition of another female to the SV2 is the least of Noa's problems. A new series of stunning Labor-related crimes rapidly escalates into an all out war against the Mobile Police. Unlike any previous encounters, the SV2 are now up against a superior form of Labor - and possibly even better pilots! And just to make the disaster complete, the Police Chief's proposed new economic move to cheaper Labors may ultimately result in the scrapping of Division 2's Ingrams. As the terrifying Griffin stalks the streets and skies of Tokyo, the Second Special Vehicles Division must fight a battle for survival on multiple fronts!

Contains Episodes 25-47.
Special Features:
Trailers

Video Tracks:
4:3 regular

Audio Tracks:
Dolby Digital 2.0 Stereo English
Dolby Digital 2.0 Stereo Japanese

Subtitle Tracks:
English

Directed By:
Naoyuki Yoshinaga

Written By:
Hiroyuki Hoshiyama
Kazunori Ito
Mamoru Oshii
Masami Yuuki

Starring:
Miina Tominaga
Michihiro Ikemizu
Osamu Saka
Ryunosuke Ohbayashi
Tomomichi Nishimura
Toshio Furukawa
Yoshiko Sakakibara
You Inoue
Elisa Wain
Adriana
Angora Deb
Curt Gebhart
Dan Green
Frankie Rome
Jack Beam
James Wolfe
Michael Schwartz

Music From:
Kenji Kawai

Distributor:
Madman Entertainment