Boogiepop Phantom Collection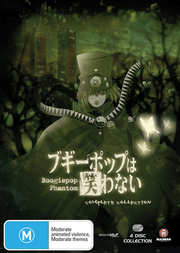 Time stands still. There is something in the darkness. You aren't alone. Are you safe?
Certificate: M
Running Time: 287 mins
Retail Price: AU$ 39.95
Release Date: 2004
Content Type: TV Series
Synopsis:
A scream in the night, and in that instant the world changed ... or at least, it appeared to. There have always been forces in the world and voices in the night: some friendly and other malevolent. Invisible until summoned; they slide through dimensions as people walk through doorways. They wait, and watch the doings of Man closely ... each for their own reasons. Sometimes, they appear ... and when they do, the world changes.

Everyone knows about Boogiepop: meet her one dark night and you are taken. People tell each other the stories and laugh: no one believes that she exists in this day and age. Still, there are some strange things that appear to be going on just below the surface. Darkness takes many forms, though. Evil and good intermingle. The glass shatters. Time stands still. There is something in the darkness. You aren't alone. Are you safe?

Five years ago, there was a string of grisly murders that shook the city to its core ... and in the present, psychic echoes reverberate.
Special Features:
Promos
Music Videos
Trailer
Special Edit Ending
Original Artwork
Producer & Character Notes
Audio Commentary on each episode

Video Tracks:
4:3 regula

Audio Tracks:
Dolby Digital 5.1 Surround English
Dolby Digital 2.0 Stereo Japanese

Subtitle Tracks:
English

Directed By:
Takashi Watanabe

Written By:
Sadayuki Murai
Kouhei Kadono

Starring:
Kaori Shimizu
Yuu Asakawa
Jun Fukuyama
Kaori Shimizu
Mamiko Noto
Mayumi Asano
Shizuma Teijima
Debora Rabbai
Rachael Lillis
Debora Rabbai
Jessica Calvello
Anne Benkovitz

Director of Photography:
Takashi Azuhata

Editor:
Takeshi Seyama

Producer:
Kazuya Furuse
Masao Maruyama
Shigeyuki Suga
Yasuo Ueda

Distributor:
Madman Entertainment