Doc of the Dead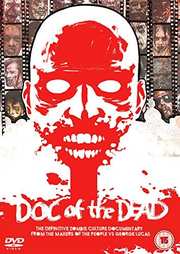 Certificate: 15
Running Time: 81 Mins
Retail Price: £15.99
Release Date: 30/03/2015
Content Type: Movie
Synopsis:
From the team behind THE PEOPLE VS GEORGE LUCAS, this is the definitive look at the zombie genre in film, literature and broader cultural influence, featuring luminaries of the genre including Max Brooks (author, WORLD WAR Z), Simon Pegg, Robert Kirkland (writer, THE WALKING DEAD) and George Romero.

Could there be a real zombie outbreak? If so, DOC OF THE DEAD can help you prepare. This definitive guide to all things undead delves deep into the evolution of the zombie genre in film and literature, as well as its impact and influence on pop culture, to deliver a comprehensive, fast-paced, highly entertaining look at a contemporary social pandemic of global proportions.

Shot and edited in a cinematically edgy, high-octane style, DOC OF THE DEAD will host a rich pop culture dialogue with zombie experts and celebrities, seek participation from YouTubers and indie filmmakers, and investigate the possibility and ramifications of an actual zombie outbreak.
Special Features:


Related Websites:
http://www.altitudefilment.com/film/distribution/20/doc-of-the-dead

Directed By:
Alexandre Phillipe

Distributor:
Altitude Film Distribution