Ladies and Gentlemen, My Name is Paul Heyman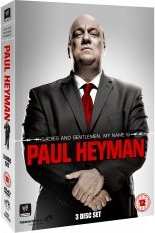 Certificate: 12
Running Time:
Retail Price: £29.99
Release Date: 04/08/2014
Content Type: TV Series
Synopsis:
One of the most controversial managers and figures in WCW, ECW and WWE History! For the first time ever, fans get the full story of the life and career of Paul Heyman. From his beginnings as a ringside photographer at MSG, to becoming a manager at WCW, then heading up the infamous ECW, Paul has his own unique brand of over-the-top, in your face entertainment that has developed him a cult-like following.

Since joining WWE, Paul has gone on to great heights, including managing Brock Lesnar, when he finally broke Undertakers WrestleMania Streak this year.

This collection includes great behind-the-scenes footage and interviews, with past and present talent talking about Paul's contribution to the world of sports-entertainment. Featuring interviews with Raven, Tommy Dreamer, Joey Styles, Mick Foley, Rob Van Dam, Stephanie McMahon and of course the man himself.
Special Features:
2 Disks of Promos from AWA, WCW, ECW and WWE.

STORIES
Photo of Vince Sr. & Andre
Riding in Blassie's Car
Troubles in Memphis
The Mole
Borrowing Time
Conference Call
Paul Heyman Guy

TEASERS
Real Story?
PG Era
Statute of Limitations
In Your Face
More Extreme

MATCHES
Main Event 21 January 1989***
The Original Midnight Express vs. The New Midnight Express
Judgment Day 19 May 2002
Hardy Boyz vs. Brock Lesnar & Paul Heyman
Night of Champions 15 September 2013
No Disqualification Handicap Elimination Match
CM Punk vs. Curtis Axel & Paul Heyman

Related Websites:
http://www.wwedvd.co.uk/ladies-gentlemen-name-paul-heyman-p-11819.html

Distributor:
Fremantle Media International