WWE Brock Lesnar: Eat. Sleep. Conquer. Repeat.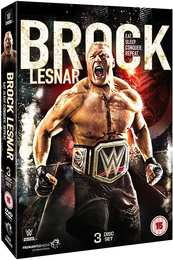 Certificate: 15
Running Time: 419 Mins
Retail Price: £20.99
Release Date: 17/10/2016
Content Type: TV Series
Synopsis:
Since day one, Brock Lesnar has conquered every obstacle in his path of destruction. He has claimed championships, taken opponents to Suplex City, and put an end to Undertaker's undefeated WrestleMania streak. Witness Brock Lesnar s greatest matches and moments and see why he lives by the mantra of EAT. SLEEP. CONQUER. REPEAT.

Featuring 14 of The Beast's biggest matches since his return to WWE in 2012, and classic (and previously unseen) matches from his original run with the company and his OVW tenure before it.
Special Features:
Brock Lesnar & Shelton Benjamin vs. Chris Michaels & Sean Casey
OVW • October 14, 2000

Non-Televised Match
Brock Lesnar vs. Mr. Perfect
RAW • January 28, 2002

Brock Lesnar vs. Rob Van Dam
RAW • June 24, 2002

WWE Championship Match
Kurt Angle vs. Brock Lesnar
SummerSlam • August 24, 2003

First Ever Biker Chain Match
Undertaker vs. Brock Lesnar
No Mercy • October 19, 2003

The Perfect Storm
Triple H vs. Brock Lesnar
SummerSlam • August 19, 2012

Steel Cage Match
Triple H vs. Brock Lesnar
Extreme Rules • May 19, 2013

"The Best" vs. "The Beast" in a No Disqualification Match
CM Punk vs. Brock Lesnar
SummerSlam • August 18, 2013

Undertaker vs. Brock Lesnar
WrestleMania XXX • April 6, 2014

WWE World Heavyweight Championship Match
John Cena vs. Brock Lesnar
SummerSlam • August 17, 2014

Triple Threat Match for the WWE World Heavyweight Championship
Brock Lesnar vs. John Cena vs. Seth Rollins
Royal Rumble • January 25, 2015

WWE World Heavyweight Championship Match
Brock Lesnar vs. Roman Reigns
WrestleMania • March 29, 2015

WWE World Heavyweight Championship Match
Seth Rollins vs. Brock Lesnar
Battleground • July 19, 2015

Hell in a Cell Match
Undertaker vs. Brock Lesnar
Hell in a Cell • October 25, 2015

Bluray Exclusives:

Big Show vs. Brock Lesnar
Royal Rumble • January 26, 2014

WWE World Heavyweight Championship Match
Brock Lesnar vs. John Cena
Night of Champions • September 21, 2014

Brock Lesnar vs. Kofi Kingston
The Beast in the East • July 4, 2015

2-on-1 Handicap Match
Brock Lesnar vs. Bray Wyatt & Luke Harper
Roadblock • March 12, 2016

No Holds Barred Street Fight
Dean Ambrose vs. Brock Lesnar
WrestleMania • April 3, 2016

Related Websites:
www.wwedvd.co.uk

Distributor:
Fremantle Home Entertainment