Puppet Master: Axis of Evil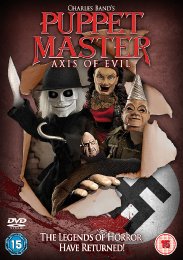 Certificate: 15
Running Time: 85
Retail Price: £24.99
Release Date: 03/01/2011
Content Type: Movie
Synopsis:
In the latest outing for Andre Toulon's deadly living puppets the action takes place following the events of 'Puppet Master III: Toulon's Revenge' and begins in the California coastline's Bodega Bay Inn during the height of World War II.

During his temporary job working at the Inn, physically disabled furniture maker Danny Coogan (Levi Fiehler) dreams of joining the war effort and fighting against the Germans and Japanese just like his soon-to-be-enlisted older brother, Don (Taylor M. Graham). Unfortunately, Danny's disability has ruled out such dreams, leaving him disappointed and frustrated. However, the sudden and mysterious death of one of the inn's guests, Mr. Toulon, results in Danny getting a real chance to take on the "Hitler lovin' Nazi scum" on his home turf.

Following Toulon's death, Danny finds a crate belonging to the old man containing a variety of puppets believed to possess the ability to move without strings. When he also discovers that two undercover Nazi assassins, Max (Tom Sandoval) and Klaus (Aaron Riber), along with beautiful Japanese saboteur Ozu (Ada Chao), are after Toulon's secrets and plan to attack a local weapons manufacturing plant he decides to intervene. Realising Danny is on to them, the Nazis attack his family and kidnap his girlfriend, Beth (Jenna Gallaher), in order to lure him into their trap. But, with the living deadly dolls Blade, Pinhead, Jester, Tunneler, Leech Woman and Ninja alongside him, Danny is more than willing to take the fight to them.
Special Features:
- No Strings Attached - The Original 'Making Of' from the first Puppet Master
- Trailer for Puppet Master

Video Tracks:
Anamorphic Widescreen 2.35:1

Audio Tracks:
Dolby Digital 5.1 Surround English
Dolby Digital 2.0 Stereo English

Directed By:
David DeCoteau

Written By:
August White

Starring:
Levi Fiehler
Jenna Gallaher
Taylor M. Graham
Tom Sandoval
Jerry Hoffman

Casting By:
Jeremiah Lutes

Soundtrack By:
Richard Band

Director of Photography:
Terrance Reicher

Editor:
Danny Draven

Production Designer:
Joe Walser

Producer:
Charles Band

Executive Producer:
Henry Luk

Distributor:
Twentieth Century Fox Home Entertainment