Le grand jeu: The Masters of Cinema Series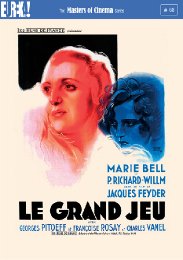 Certificate: PG
Running Time: 110
Retail Price: £19.99
Release Date: 21/06/2010
Content Type: Movie
Synopsis:
A marvellous rediscovery from the golden age of French cinema, Jacques Feyder's Le grand jeu is a tragic doppelgänger romance, steered by the fate of the tarot card, and set against the dizzying exoticism of 1930s Morocco.When scandalous Parisian playboy Pierre Martel is forced by his family to leave France and his adored lover Florence (Marie Bell), he begins a new life in the Foreign Legion as Pierre Muller.  Surrounding his regret it camaraderie, whores and hellraising, he is astonished at meeting Irma (also Marie Bell), a prostitute with an uncanny resemblance to his beloved, and begins a fitful scheme to allow her escape.An early benchmark of poetic realism and a fascinating precursor to both Duviviier's Pépé le Moko and Hitchcock's Vertigo, Feyder's fluid, masterful storytelling make less a unique classic of the screen: vividly forceful yet subtle, acutely observed yet fantastic, world-weary yet tender.
Special Features:
- Beautiful digital transfer, officially licensed from Pathé's film restoration
- New English subtitle translation
- A booklet featuring a new essay by French cinema scholar Ginette Vincendeau, newly translated writings by Feyder, reminisces by his collaborators and production stills

Video Tracks:
Full Frame 1.37:1

Audio Tracks:
Dolby Digital 2.0 Mono French

Subtitle Tracks:
English

Directed By:
Jacques Feyder

Written By:
Jacques Feyder
Charles Spaak

Starring:
Charles Vanel
Marie Bell
Françoise Rosay
Pierre Richard-Willm
Georges Pitoëff
Camille Bert
André Dubosc
Pierre Larquey

Soundtrack By:
Hanns Eisler

Director of Photography:
Maurice Forster
Harry Stradling Sr.

Editor:
Jacques Brillouin

Distributor:
Eureka Entertainment
The Masters of Cinema Series