Monte Montgomery: Live - At Workplay
Introduction:
Given that he was named as in the Top 10 "Best Undiscovered Guitarists" by Guitar One magazine, you would think that the name Monte Montgomery would be more well-known these days in the rock community.

But were it not for DJ Rob Birnie and the fabulous Planet Rock Radio station (www.planetrock.co.uk), the talents of Montgomery may have passed this reviewer by. Thankfully, upon said suggestion, "Live at Workplay" found its way through the MyReviewer postbox.

Released in the USA in 2005, this DVD only hit the European shelves in March 2008.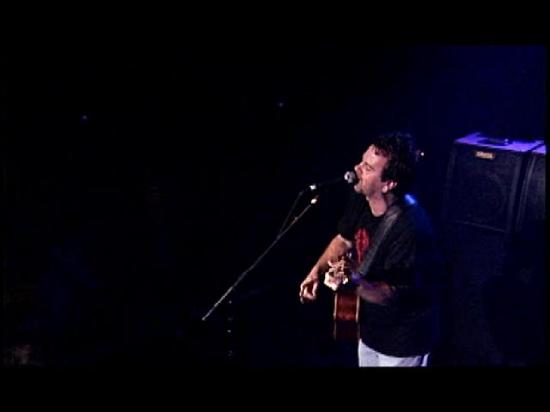 Video:
Video is presented in 4:3 fullscreen NTSC (Region 0) and is rather poor for a DVD release.
Some of the blame for that can be attributed to the editor, who has seen fit to give an "artistic" brown colouring to many segments of the set (see attached screenshots). These do nothing but take away from an already poor capturing of the concert, where only the close-ups of Montgomery and the band match up to DVD quality. The rest of the shots are rather pixellated, and don't make for pleasant viewing on a 42" plasma television.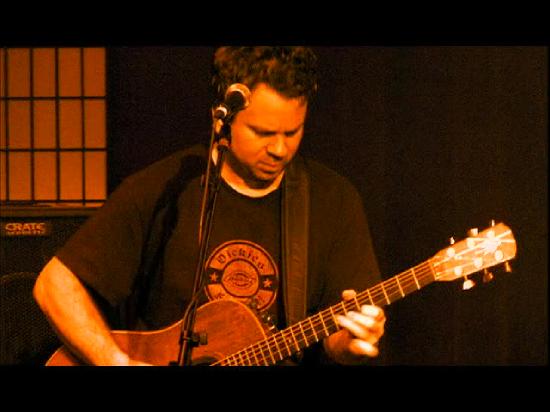 Audio:
Audio is presented in PCM stereo, and is very good for a DVD of this genre. The sound is exceptionally clean, and each instrument of this three-piece band can be easily isolated by the ear.
David Piggott's bass acts as the foundation for the band, as you'd expect, with the confusingly-named drummer Phil Bass providing rhythm on the drums, as Montgomery's guitar and vocals take centre stage.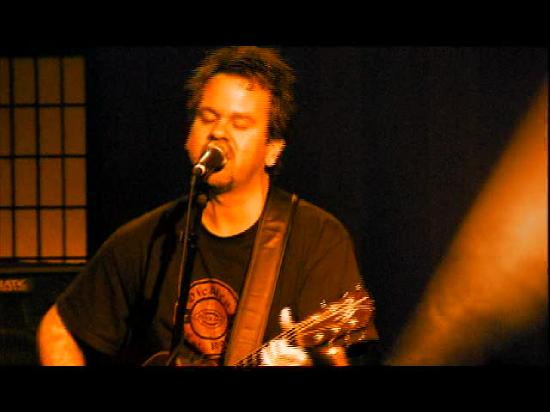 Overall:
As a guitar-music enthusiast, the first thing I thought to myself when I heard Monte Montgomery play, was that I'd never heard anything like it previously.
Sure, Eddie Van Halen had shown that all manner of tricks were possible on acoustic guitar with his "Spanish Fly" solo on the Van Halen II album, but while Montgomery's style mirrors Van Halen's with his oft-use of harmonics, his actual amplified sound has a fullness that I haven't heard before on acoustic guitar. As a layman to guitar and amp hardware, it was quite the pleasant surprise.
So if you're looking for some interesting, master-of-the-instrument guitar playing, there's plenty to be found on "Live - At Workplay". But there is also some excellent song-writing going on here, in particular the track "Wishing Well", which has the vocal rhythms that many pop music fans may associate with the likes of Counting Crows or Matchbox Twenty.
There's even a few different genres piqued during this set, with the riff from "Splitsville" delving into country music territory, and the ballad explored in "How The Story Goes". The final cut "Bringing Me Down", is akin to an extended jam, and is another highlight of the set.
If there's a complaint to be made here, it is that at 60 minutes in duration, there isn't as much bang-for-the-buck as some will expect. In a time of double-disc concert sets at not-dissimilar prices, those taking a chance on this disc may feel a little let down.
Overall, however, if you are into acoustic music, or are looking for a new guitar interest, "Live - At Workplay" is worth considering adding to your collection. With a mix of excellent guitar playing with an innovative sound, and some good song-writing, "Live - At Workplay", despite its flaws, is certainly recommended.