Peep Show: Series Five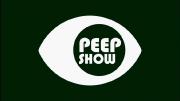 Introduction
From its humble and low-key beginnings on Channel 4 in 2003,
Peep Show
has gained a large cult following, to the point where it is almost mainstream comedy. After disappointing viewing figures for series 3, Channel 4 considered axing the show before massive DVD sales prompted them to commission two further series from Sam Bain, Jessie Armstrong, David Mitchell and Robert Webb.
In case you are unfamiliar with
Peep Show
, it follows the far from boring day to day lives of Mark and Jeremy (David Mitchell and Robert Webb), shot in subjective POV. Together with seeing what they see and hearing what they hear, we are also privy to their innermost thoughts, which are often completely at odds with what they've just said!
Jeremy, a terrible wannabe musician, lodges with Mark, who although both in their late twenties, behave like a teenager and an old man respectively. After jilting Sophie at the altar, Mark finds himself a pariah at work and desperately searching for 'the one' - a label he attaches to every girl he sets eyes on.
Series 5 sees Mark contemplating an office romance with Dobby, the nerdy IT girl, restraining a burglar by sitting on him and becoming Jeremy's roadie. Meanwhile, Jeremy and Super Hans are still trying to make it big in the music industry.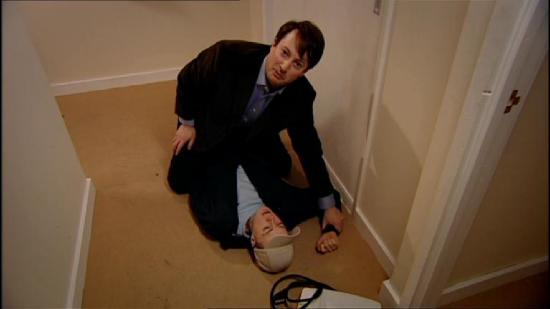 Video
A very clear anamorphic 1.78:1 picture, as it should be for a DVD released just after the show has finished its run on TV.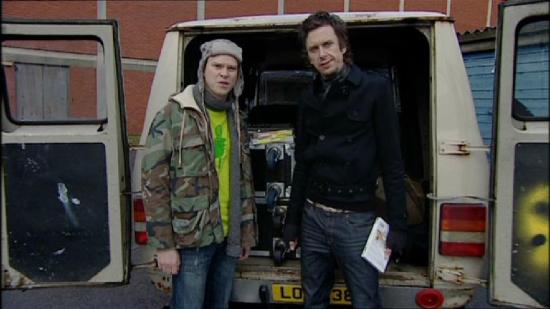 Audio
An excellent DD 2.0 stereo soundtrack, with good optional English subtitles.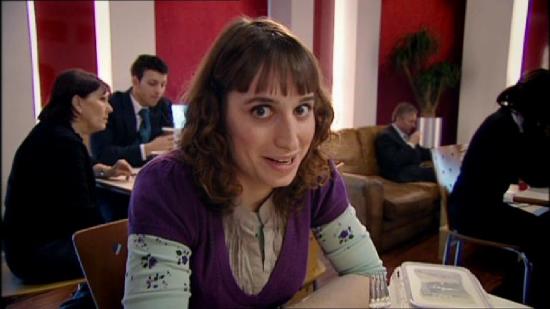 Extra Features
Behind The Scenes - this consists of interviews with Jessie Armstrong and Sam Bain and rehearsal footage, showing the development process of
Peep Show
.
The Peep Show Relationship Tree - narrated by Olivia Colman, this flowchart with clips shows romantic links between the characters over the five series - I'd forgotten some of them and it was brilliant to see them again.
Deleted Scenes - only three, which are funny but wouldn't have added to the episodes. It's a tribute to the writing that there is so little to cut.
Deleted Scenes With Commentary - as above, with commentary.
Sophie's Peep Show - we usually only hear Mark and Jeremy's inner thoughts, but now it's Sophie's turn with a few clips from series 5 where we hear what she was really thinking.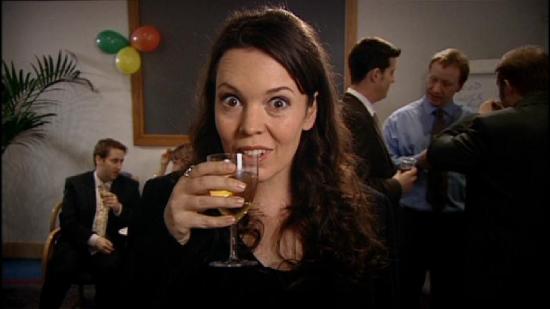 Conclusion
Unless this does phenomenally well on DVD, it's all over for
Peep Show
. I'd hate it to get stale and tired and with this superb series it's as good a time to finish as any. If you know the show, you know what to expect - outrageous comedy moments that could choke you if you're eating or drinking at the time. (It happened to me twice, with peanuts on series 4, but I didn't learn and nearly inhaled risotto watching this series!)
This is just so good that anything else David Mitchell and Robert Webb appear in is always compared unfavourably to Peep Show -
That Mitchell and Webb Look
was ok, but suffered in the shadow of Sam Bain and Jessie Armstrong's creation.
If you haven't seen this funny, smart, brilliant show you've really missed out. There is a Series 1-5 box set coming out at the same time that demands a purchase if you don't own any
Peep Show
on DVD. For those, like me, who bought the series separately as they came out, buying this DVD is a no-brainer.