The Endless River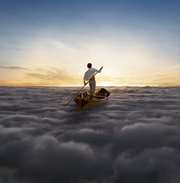 Main Artist: Pink Floyd
About this CD:
In early 1993, David Gilmour, Nick Mason and Richard Wright set up their equipment in their own Britannia Row Studios in Islington and created more than hundred pieces of music by jamming together, interacting with each other's performances and recording the results.

They then honed the pieces at David's Astoria floating studio, played them live for 2 days at Olympic Studios in Barnes with an extended lineup (Guy Pratt on bass, Jon Carin on keyboards and Gary Wallis on percussion). After that, the core trio returned to Astoria, and worked further on the compositions, alongside co-producer Bob Ezrin, refining the structure, tempos and arrangements. The result, after lyrics and vocals were added, was the 12 million selling 'Division Bell' album.

At the time, there had been talk of a separate ambient album being created from the non-vocal tracks not subsequently issued on 'The Division Bell', but the idea was eventually dropped.

In 2014 David Gilmour and Nick Mason re-entered the studio and, starting with unreleased keyboard performances by Richard Wright, who sadly died in 2008, added further instrumentation to the tracks, as well as creating new material. The result is The Endless River.
Running Time: 52:47
Retail Price: £8.99
Release Date: 10/11/2014

Track Listing:
1. Things Left Unsaid
2. It's What We Do
3. Ebb And Flow
4. Sum
5. Skins
6. Unsung
7. Anisina
8. The Lost Art Of Conversation
9. On Noodle Street
10. Night Light
11. Allons - y (1)
12. Autumn '68
13. Allons - y (2)
14. Talkin' Hawkin'
15. Calling
16. Eyes To Pearls
17. Surfacing
18. Louder Than Words

Performers:
Dave Gilmour
Rick Wright
Nick Mason

Writers:
Dave Gilmour
Rick Wright
Nick Mason
Polly Samson

Producers:
David Gilmour
Youth
Andy Jackson
Phil Manzanera
Bob Ezrin