X Marks the Box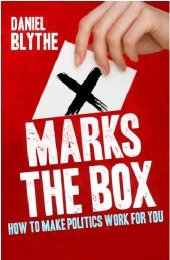 Ho to Make Politics Wok for you
Authors:
Daniel Blythe

Retail Price (Hardback): Retail Price (Softback):
£7.99
Retail Price (Ebook): ISBN:
9781848310513
First Published:
2010
Description:
What it says on the cover
Your children's schools, crime in your neighbourhood, housing, your local hospital, the wind farm outside your town, or the rising cost of public transport - these are all political issues. But with party politics a turn-off, how can you make a difference?

Why should we vote? What do politicians do and why does it matter? Are you a Diehard voter, a Bloody-Noderr or a Tactical? What can your MP do for you? And why do they avoid answering direct questions?

Self-confessed born-again voter Daniel Blythe, described by The Times as a 'sharp, observant and energetic writer', covers the best general elections and the most underrated politicians. He explores the biggest political U-turns and betrayals, the part played by newspapers, and what manefestos really mean. He provides guides to how best to make your vore count, how to protest or be a local activist, and why you should care about by-elections.
Publishers:
Icon Books