Machiavelli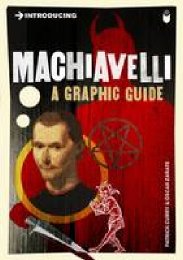 Machiavelli
Authors:
Patrick Curry & Oscar Zarate

Retail Price (Hardback): Retail Price (Softback):
£6.99
Retail Price (Ebook): ISBN:
9781848311756
First Published:
2011
Description:
This book is one of the 'Introducing - A graphic guide' series and previously published under the title 'Machiavelli for Beginners.'

What it says on the cover:
Is Machiavelli's The Prince:
A how-to manual for dictators?
A cynical philosophy of 'the end justifies the means'?
Or a brilliant and subtle analysis of successful government?

Machiavelli's classic book on statecraft was published over 400 years ago, remains controversial to this day because of its electrifying frankness as a practical guide to power. 

A loyal servant of the Florentine republic, Maciavelli's opposition to the Medici despots led him to torture on the rack and exile, and yet he chose as his model for the Prince the most notorious tyrant, Cesare Borgia.

Introducing Machiavelli traces the colourful life of this paradoxical realist whose clear-sighted patriotism made him the first truly modern political scientist. Machiavelli is seen as central to the postmodern debate on Civil Society. This book brings the creative turbulence of Renaissance Italy to life, and presents a compelling portrait of a key figure of European political history.
Publishers:
Icon Books