Planetes - Collector's Edition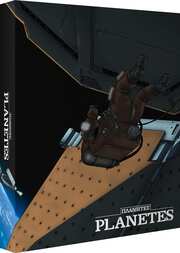 A classic series from the creator of Code Geass.
Certificate: 12
Running Time: 650 mins
Retail Price: £59.99
Release Date: 2021
Content Type: TV Series
Synopsis:
The year is 2075 - a future in which widespread commercial space travel is not just a dream but a reality, and where the Moon has been transformed into a bustling colony. However, all of the advancements in science and technology which brought about this intergalactic dream have also caused an exponential growth in a major peril for spacefarers - space debris.

Enter the crew of the DS-12 "Toy Box", part of Technora Corporation's Space Debris section who are tasked with clearing up the dangerous detritus floating in Earth's orbit which threatens to cause a catastrophe if left unchecked. It's a far from glamorous job, as newcomer Ai Tanabe quickly learns as she joins the crew to find an underfunded but passionate group of larger-than-life characters who are dedicated to their under-appreciated craft.

So begins a sci-fi series the likes of which you've never seen before, as ordinary people make their way through the extraordinary vastness of space in search of their hopes and dreams - a journey which can be as dangerous as it is uplifting.
Special Features:
• Clean Openings
• Clean Endings
• Picture Dramas
• TV Promos
• Digital Comics
• Tanaka Kazunari visits JAXA
• Disassembled Opening
• Art Gallery
• Japanese Cast & Crew Commentary - Episodes 1, 10, 12, 16, 24, 25 and 26

Comes pack in a rigid case with a Digipak case to hold the 3 Blu-ray discs

Also included is an 84-page booklet of character artwork.

Video Tracks:
1.78:1 widescreen 1080p

Audio Tracks:
DTS-HD MA 5.1 Surround Japanese
DTS-HD MA 2.0 Stereo Japanese
DTS-HD MA 2.0 Stereo English

Subtitle Tracks:
English

Directed By:
Goro Taniguchi

Written By:
Ichiro Okouchi
Makoto Yukimura

Starring:
Kazunari Tanaka
Satsuki Yukino
Ai Orikasa
Aikou Ogata
Kumiko Watanabe
Maiko Itou
Takehito Koyasu
Tetsuo Goto
Julie Ann Taylor
Kirk Thornton
Doug Stone
Jamieson Price
Kate Higgins
Lia Sargent
Steve Schatzberg
Wendee Lee

Music From:
Kotaro Nakagawa

Director of Photography:
Souta Ooya

Editor:
Seiji Morita

Producer:
Atsushi Yukawa
Chiyuki Uehara
Jun Yakawa
Tomoyuki Uehara
Yoshitaka Kawaguchi

Distributor:
All the Anime