Safe (Blu-Ray)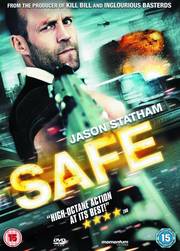 High-octane action at its best!
Certificate: 15
Running Time: 94 minutes
Retail Price: £9.25
Release Date: 10/09/2012
Content Type: Movie
Synopsis:
When ex-Government agent Luke Wright (Jason Statham) exposes the Russian mafia for rigging an illegal fight, they seek revenge on his family and threaten to kill anyone close to him. Destitute and living alone on the streets of New York, Luke has given up hope… until a chance meeting with a young girl changes everything.

Mei (Catherine Chan), a 10-year-old mathematical prodigy, is abducted by Triad gangsters wanting to use her unique ability to memorise a secret code. When the Russian mafia and a group of corrupt cops also launch a plan to kidnap Mei, it's clear she holds the key to something deeply dangerous and these men will stop at nothing to get it.

Over the course of one harrowing night Luke snaps back to life and tears through the city's underworld...
Special Features:
Trailer
Director's commentary
The Making of Safe
Cracking Safe featurette
Criminal Background featurette
The Art of the Gunfight featurette

Related Websites:
www.momentumpictures.co.uk

Video Tracks:
1080p High Definition

Audio Tracks:
5.1 DTS HD MA

Subtitle Tracks:
English Hard-of-Hearing

Directed By:
Boaz Yakin

Written By:
Boaz Yakin

Starring:
Jason Statham
Catherine Chan
Robert John Burke
James Hong
Anson Mount
Chris Sarandon
Sándor Técsy
Joseph Sikora
Reggie Lee
James Colby
Matt O'Toole
Danni Lang

Casting By:
Douglas Aibel

Soundtrack By:
Mark Mothersbaugh

Director of Photography:
Stefan Czapsky

Editor:
Frederic Thoraval

Costume Designer:
Michelle Matland
Ann Roth

Production Designer:
Joseph Nemec III

Visual Effects:
Erika Abrams
Andrea D'Amico
Scott Dougherty
Mark O. Forker
Alan Munro

Producer:
Lawrence Bender
Dana Brunetti
John R. Woodward

Executive Producer:
Stuart Ford
Brian Kavanaugh-Jones
Deepak Nayar
Kevin Spacey

Distributor:
Momentum Pictures