History of the World in Two Hours (3D Blu-Ray)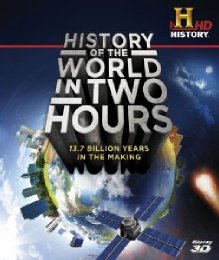 13.7 billion years in the making...
Certificate: Exempt
Running Time: 88 minutes
Retail Price: £19.99
Release Date: 24/09/2012
Content Type: Movie
Synopsis:
This landmark television special cuts 13.7 billion years of history down to size.
In just two hours, you will get the whole story of where you came from and how you got here.

Find out why your original ancestor is an exploding star, how your handheld device hides a Stone Age secret, and why your fast-paced modern lifestyle grew from seeds planted more than 10,000 years ago.

From the formation of the earth and the emergence of life, to the advance of man and the growth of civilization, the CGI-driven special HISTORY OF THE WORLD IN TWO HOURS is a rapid-fire view of history an epic story that reveals surprising connections to our daily lives.
Special Features:


Subtitle Tracks:
English, Dutch, German, Polish, South American Spanish

Directed By:
Douglas Cohen

Written By:
Douglas Cohen

Starring:
Corey Burton

Director of Photography:
Tom Collins
Andy Schlachtenhaufen
Kenneth Stipe

Editor:
Kevin Browne

Costume Designer:
Kathryn Shemanek

Producer:
Sam Dolan

Executive Producer:
Paul Cabana
Douglas Cohen
Louis Tarantino

Distributor:
History