Peeping Tom: 50th Anniversary
Michael Powell enjoyed a long and successful partnership with Emeric Pressburger, making such classics as A Matter of Life and Death, Black Narcissus, The Red Shoes and The Life and Death of Colonel Blimp. In the late 1950s, he decided to make a film with Leo Marks, a wartime cryptographer, who had written a story about Mark Lewis (Karlheinz Böhm, credited as Carl Boehm), who works as a focus puller and supplements his income by taking photographs for 'under the counter' magazines.

Mark was the subject of bizarre and cruel experiments by his father, who used him as a guinea pig in his research into fear. Mark spent his life, up until his father's death, being recorded on tape and film and has developed an unhealthy relationship with the camera, to the point where he takes one everywhere and uses the tripod to kill women, filming them as they die. He is the titular 'peeping Tom', a man suffering from scopophilia which makes him compelled to watch other people and act as a voyeur.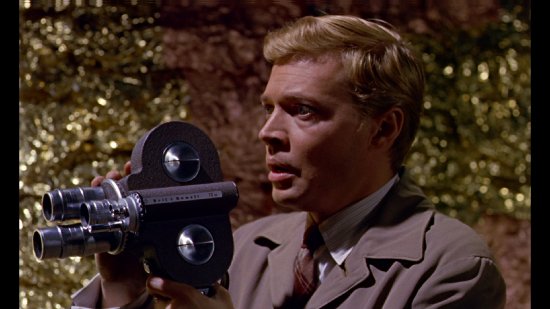 Mark lives upstairs in a shared house, keeping himself to himself, until Helen Stephens approaches him on her 21st birthday and invites him to her party, which is attended by all the other tenants. When he fails to attend the party, she takes a slice of birthday cake up to his room and begins asking about his past and what all the equipment and books in his apartment are. The two begin seeing each other, much to the dismay of Helen's blind and alcoholic mother who senses something about Mark that she doesn't like.
On its original release in 1960, critical reception to the film in the UK was scathing. Derek Hill wrote in The Tribune that "The only really satisfactory way to dispose of Peeping Tom would be to shovel it up and flush it swiftly down the nearest sewer. Even then the stench would remain." and Isobel Quigley in The Spectator called it "the sickest and filthiest film I remember seeing", surpassing the horrors in George Franju's horror masterpiece
Eyes without a Face
. Karlheinz Böhm recalls how guests of honour left the premier without even looking at him and Powell.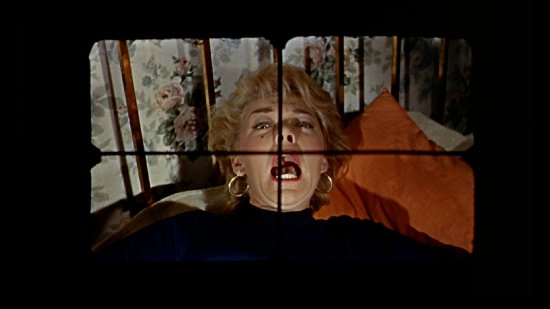 A huge fan of Michael Powell's work, Martin Scorsese, together with other filmmakers including Bertrand Tavernier and Francis Ford Coppola, championed the film in the 1960s and '70s and it was first released on DVD by the Criterion studio in 1999.
Lambasted on its release,
Peeping Tom
virtually finished Michael Powell's career as a filmmaker, as he never recovered from the critical mauling his film received. Compared to the films he made with Emeric Pressburger, this marks a huge change in direction for Powell who, despite examining the human psyche in
Black Narcissus
and obsession in
The Red Shoes
, had never made a film as intense and terrifying as this.
The choice of Karlheinz Böhm for the lead was a strange one, as the German actor had never made an English language film, but his clipped tones and reserved appearance suit the character perfectly, sounding slightly like Peter Lorre. Anna Massey, as Helen, was similarly inexperienced, having only made one film, and that was in a small role, but she is likewise perfectly cast and plays opposite Böhm beautifully. Maxine Audley, who plays Helen's alcoholic mother, is a splendid actress who is convincing as a blind woman who knows that there is something 'wrong' about Mark without knowing exactly what. There is even a small role for Moira Shearer who displays some of the dancing ability that made her such a great lead in
The Red Shoes
.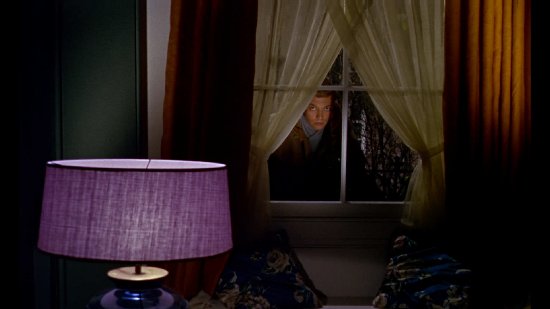 I was mesmerised by the film the first time I saw it and has been a huge fan of
Peeping Tom
ever since, buying it twice on DVD and then immediately pre-ordering the Blu-ray knowing that Optimum would give it the treatment it fully deserves. Film scholars, such as Robin Wood, tend to cite
Psycho
as a turning point in the horror genre as it is when horror 'came home' and started to be about the family rather than monsters, mutated animals/insects or creatures from outer space but
Peeping Tom
tends to be neglected in academic discourse, something that should be remedied.
The film is, in my opinion, a masterpiece with incredibly intelligent writing, superb performances by the entire cast and immensely personal and remarkable direction by Michael Powell. It isn't in my Top 10 list of horror films but it does make it into my Top 50 as a disturbing and multilayered movie that can be watched many times drawing something new from it on each viewing.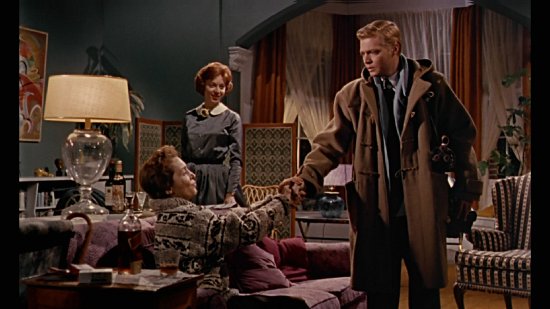 The Disc
Extra Features
Other than the 'restoration comparison' everything in this extras package is the same as the 2007 Special Edition DVD, also released by Optimum.
Martin Scorsese provides a two minute introduction to the film in which he talks briefly about the film.
The commentary by Ian Christie, a professor of film and media history, is interesting and authoritative without ever becoming dry.
'The Eye of the Beholder' documentary features interviews with Ian Christie, Martin Scorsese, Thelma Schoonmaker, academic Laura Mulvey, Karlheinz Böhm and Michael Powell's son Columba. In just over 18 minutes they talk about the film from their own perspectives as critics, fans, family and actors and provide useful insights.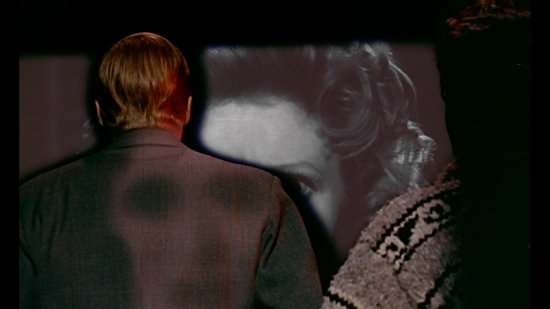 'The Strange Gaze of Mark Lewis' is a French documentary, running at 24 minutes and has contributions from British film historian Charles Drazin, Bertrand Tavernier and Dr. Olivier Bouvet a psychiatrist-psychoanalyst. It is almost a companion piece to 'The Eye of the Beholder', with further discussion of the film.
In the interview with Thelma Schoonmaker (Michael Powell's widow), she talks for 10 minutes about how she came to see the film, what she thought of it as a fan and the effect the film's reception had on her husband.
The restoration comparison (6:13, HD) uses split screen to show the difference between the original print which can be horribly washed out, with extremely low contrast levels and poor detail to just illustrate the massive difference between how the film looks and how good this HD transfer is in comparison -- the difference is startling.
There is also the original trailer and a behind-the-scenes photo gallery.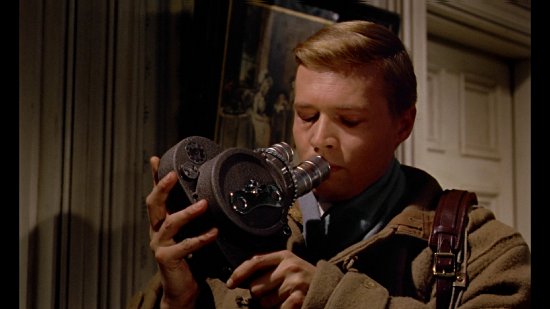 The Picture
Presented in the correct aspect ratio of 1.66:1 (the previous UK DVD release was in 1.78:1), the film looks terrific, with vibrant colours and good contrast - Otto Heller's cinematography is superb. The use of lurid Eastmancolor gives some of the scenes are bright, almost seedy and pornographic look, and the colour palette extends to the actors' hair with a remarkable number of redheads amongst the principal cast.
The Sound
The LPCM 2.0 Mono soundtrack is crystal clear and presents the dialogue extremely well making every word come across crisply and clearly and the tremendous soundtrack, which perfectly underscores the terror and emotion, doesn't interfere with the dialogue at all.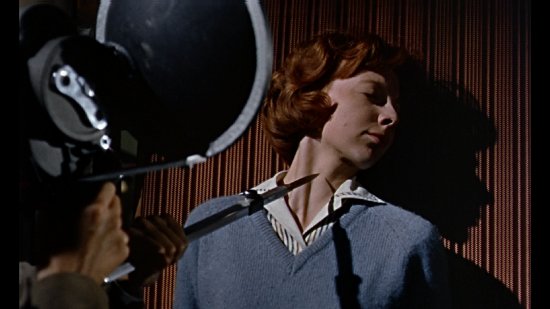 Final Thoughts
I can only imagine that the critical mauling it received was because the critics were not expecting such an intelligent and terrifying examination of the mind of a psychopathic killer in which the audience sympathises with the murderer, and that a bawdy sex comedy about a peeping Tom would have received more favourable notices. Released in the same year as Hitchcock's
Psycho
,
Peeping Tom
also has a socially inept serial killer as the main character, with scenes of incredible tension, but unlike
Psycho
, it took nearly 40 years for Powell's film to be universally recognised as a truly great film.
This has already been released on DVD twice, as a special edition in the UK and by the Criterion Collection in the US (I own both) and this is almost a 'must buy' disc for those who are, like me, massive fans of this tremendous movie.
As well as being released on Blu-ray, this is also being given a limited theatrical run three days earlier on Friday November 19.