The Sixth Sense
Long before M. Night Shyamalan's career faded into an apparent oblivion with a chorus of laughter behind it, with critical and commercial flops like The Village, The Happening and The Lady in the Water, he was being lauded as the next Alfred Hitchcock and one of the most promising filmmakers in over a generation based largely on his debut feature, The Sixth Sense. Although the ending is now part of the zeitgeist, just as the endings to Citizen Kane (Rosebud was his childhood sled), The Crying Game (the girl is, in fact, a bloke) and Psycho (Mrs Bates was embalmed by his son who acts out as she would have done whilst dressed in her clothing), it was a closely guarded secret that very few people saw coming.

Going back to 1999 and having heard about The Sixth Sense as some kind of brilliant new horror film which was riding on the wave of recently re-released classic horror movies from decades before like The Exorcist, The Texas Chain Saw Massacre and The Evil Dead and rumours were that it was one of the best genre films for ages and had an ending that would make your head spin.

The film begins when Vincent Grey, an ex-patient of child psychiatrist Dr. Malcolm Crowe, shoots his former doctor in the stomach, having burst into his house following an award ceremony at which Dr. Crowe was honoured by the city of Philadelphia. Vincent yells at Dr. Crowe about how he was a lousy psychiatrist who failed to help him before shooting the shrink in front of his terrified wife before turning the gun on himself.


One year later and a young boy, Cole Sear, seeks out Malcolm's help as he has the same problems as the patient that shot Malcolm. Cole's issue isn't that of a normal young boy (bullying, confidence issues or bereavement), but something far more troubling: he sees dead people. Cole qualifies this, saying that he doesn't just see dead people at random, only dead people who don't know they're dead and Malcolm does his best to help the youngster, listening closely to what he has to say, following him to birthday parties and events at school to try get to the bottom of his problem. The fact that Cole is an only child and his mother is finding it hard to balance childcare duties and work doesn't help.
It appears that Malcolm's marriage has broken down as he no longer speaks to his wife, she doesn't even attempt to communicate with him and all he has left is his job. Throwing himself headlong into a new case, Malcolm tries to make amends for shortcomings he has in his personal life and this gives the film a very personal resonance as it deals with grief, sadness and a sense of longing. Malcolm sees Cole's case as being very similar to Vincent's and, if he failed Vincent, then helping Cole is a way of personal redemption.
Bruce Willis was in a fairly rich vein of form and was appearing in movies very regularly so the fact that he was able to turn in an incredibly assured and believable performance wasn't really news to anyone. The real star of the show was Haley Joel Osment, a young boy who had spent most of his life in TV shows, from
Sesame Street
to
Chicago Hope
and
Ally McBeal
. With Toni Collette playing Cole's mother and making up the principal cast, you had two tried and tested actors who was could pretty much give, at the very least, solid performances but, as is always the case when a child actor makes his feature film debut, you don't know whether they will sink or swim. In Osment's case, he took to feature film acting like the proverbial duck to water.
The Sixth Sense
gradually draws you into Cole's troubled life and there are some genuinely spooky scenes, particularly in the school, when he is surrounded by ghosts and there are a few jumps along the way with arguably the best coming when Cole and Malcolm went to a young girl's funeral, with Cole leading the way into her bedroom to find a box which contains a secret that she wants Cole to pass on.
Unusually, this was a film that lived up to the hype and I really believed that M. Night Shyamalan was this promising director that so many people hoped and thought he would be. As both writer and director, his screenplay was excellent and is extremely well constructed, drawing you into the film and Cole's life with immense skill so that when you get to the end, you are completely sideswiped. In terms of his direction, it was not only functional but extremely clever with smart colour motifs -- the colour red plays an important part -- and architecture as the scene in the school uses the staircase to remarkable effect. The fact that
The Sixth Sense
works so well as a stand-alone film and would do just fine without the last minute reveal that was the subject of Internet debates and conversations around dinner tables around the world is a testament to just how well it is made, with a terrific screenplay, wonderful acting and extremely intelligent direction.
It's quite easy to laugh at a film once you know the trick ending and parody some of the key lines (as the Wayans' brothers did in
Scary Movie
) but I think that the impact the film had, not just on me, but on the movie industry hand on popular culture as a whole in 1999 and 2000.
The Sixth Sense
wasn't just a big film, it was massive and, although it didn't win any of the six Oscars for which it was nominated, it was extremely commercially successful and highly regarded by most film critics.
This makes M. Night Shyamalan's fall from grace all the more telling as he was just another director who suddenly became 'the next big thing' and his next two films,
Signs
and
Unbreakable
failed to live up to the promise of his third film but almost nothing could prepare you for the massive fall that was to come. It almost seems like Shyamalan believed his own hype, thought he was untouchable, and just disappeared of his own backside with one abysmal film after another: many people thought
The Village
was just a blip on an otherwise upward trajectory but he followed that with
The Lady in the Water
and then
The Happening
, both of which were critically panned. Either audiences were getting wise to his obsession with twist endings (and cameo appearances) so were actively looking for them or the films were just so completely daft and inexplicably badly made that it made you wonder if his career would ever recover. I suppose we will only know when
The Last Airbender
is theatrically released.
Wherever his career goes from here, at least M. Night Shyamalan will have
The Sixth Sense
as the shining glory in his résumé, the one great film in his oeuvre that is recognised by many as one of the finest horror films of the 1990s and a genuinely special movie that only someone with real talent could make.
The Disc
Extra Features
Sadly, there aren't any brand new features for this release so all you have are all the special features ported over from the DVD.
The first of these,
Reflections from the Set
, is typical EPK material comprising interviews with the principle members of the cast and the writer/director. They all talk about what a great shoot it was, what a joy it was to read a script this good and how the cast members have been terrific to work with.
Between Two Worlds
is a 37 minute documentary with contributions from William Peter Blatty (writer,
The Exorcist
), Bruce Joel Rubin (writer,
Ghost
;
Jacob's Ladder
) and M. Night Shyamalan together with an academic of some sort -- it is never specified where his expertise lies -- and they talk about ghost stories, their experiences of 'the other side' and why children are more perceptive than adults. If you are a believer then you will probably find more enjoyment in this than a sceptic like me, but there is still some interesting information and anecdotes. A word of warning: this does contain the endings of
Ghost
,
Jacob's Ladder
and
The Sixth Sense
so, if you haven't seen them, you would do well to give this a miss.
Moving Pictures: the Storyboard Process
is another EPK-type piece as it just goes through how M. Night Shyamalan uses storyboards and why he and storyboard artist Brick Mason like to use storyboards and how they were employing them on his (then new) films
Signs
.
Music and Sound Design
also teeters perilously on the edge of being EPK material but just about becomes a worthwhile featurette as it concentrates on the work that went into all the underlying sounds that you don't really notice but add so much to the film.
Reaching the Audience
and
Rules and Clues
should really not be viewed by anyone who has not seen the film as they dissect how the film was crafted in order to appeal to a demographic usually not reached by a horror film (young boys
and
older women) and exactly what different aspects of the film mean as regards a ghost.
M. Night Shyamalan talks you through a series of
deleted scenes
which are all quite good in themselves but were, for various reasons, omitted from the finished product.
Under the '
publicity
' heading are a selection of trailers and TV spots which is quite interesting from a historical point of view as you get to see just how the film was marketed.
The Picture
I expected the film to look very good as, when I first saw it, I was struck by the attention to detail and the intelligent colour palette, with particular attention to red (perhaps in a nod to
Don't Look Now
). Colours are bright and vibrant when need be, but as most of the film is fairly muted, the transfer does a great job of picking out the nuances in the colour scheme and presenting the darker scenes extremely well without any loss of clarity.
The cinematography, by Tak Fujimoto who is best known for his work on
The Silence of the Lambs
) is a tremendous lesson in working with a very earthy palette, dominated by browns and greys, and it shows that he obviously enjoys working in Philadelphia.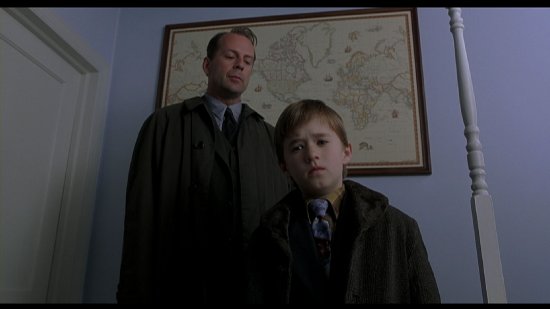 The Sound
One could perhaps accuse the distributors of being a little cheap with the soundtrack as they obviously decided not to go with either DTS or Dolby for a high definition lossless soundtrack, so in addition to the Dolby Digital 5.1, you also have an uncompressed LPCM 5.1 soundtrack which is clearly the audio option of choice.
This does a terrific job of presenting the dialogue crisply and clearly and allowed the surround speakers to lurk ominously in the background so, when they do come to life, you get the 'jump' that the director intended. Thankfully, these are few and far between with M. Night Shyamalan preferring to build atmosphere and tension, so when the plot reveals do come, they have a much greater impact than if you had been given a loud aural stab every five minutes.
The score, by James Newton Howard, is a terrific piece of music that really lends the film an additional emotional weight, beautifully playing with the emotions and complementing the sound design and additional sounds: layer upon layer of people breathing, with some animal sounds thrown in.
Final Thoughts
For a film as widely hyped and oft imitated (and spoofed) as
The Sixth Sense
, it is a wonder that still stands up to a viewing over ten years after it was released. It is a film that I liked when I first saw it, and rate very highly, but is one of those titles that I have always planned to buy but have just never had the inclination. Having now bought the film on Blu-ray Disc having somehow managed to avoid buying it on DVD (I have no idea how this happened given my buying habits), I still think it is a terrific film and one that is extremely well plotted, acted and directed. It's just a real shame that M. Night Shyamalan's career went downhill from there.
Whether you buy this or not will largely depend on how much you like the film and whether you already own it on DVD; the lack of any new extra features (and those that are there are only in standard definition) will probably put off the casual fan who has it on DVD and sees no reason to upgrade but, if you are anything like me and don't already own it, it is a great film and the AV quality is reason enough to bypass DVD and go straight for the BD.