MAGIX Audio Cleaning Lab 2014 - Sound Optimization Made Easy
MAGIX announces the release of the latest version of
MAGIX Audio Cleaning Lab
. MAGIX Audio Cleaning Lab 2014 has been developed for everyone who wants to get the most out of their audio material in the shortest amount of time. Thanks to the user-friendly interface you can digitize, edit and optimize your audio material with just a few clicks.
The new MAGIX Audio Cleaning Lab 2014 enables fast and easy control of all the functions necessary for recording, cutting and optimizing your audio material. Thanks to a wide range of powerful presets even beginners can edit audio just like a pro.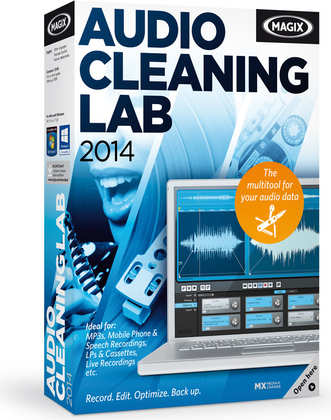 MAGIX Audio Cleaning Lab is even more intuitive. With just a few clicks audio material can be digitized, cut and optimized - it's so easy, anybody can do it!
The new tools make sound optimization easier than ever before. For example the Auto Mastering tool optimally adjusts sound settings depending on the music style, hear the difference after just three clicks!
The integrated browser also enables all kinds of files to be directly imported and exported from the program using mobile devices, removing the need for extra dialogs.
Highlights
NEW Optimize smartphone recordings
Auto Cleaning: Remove unwanted noise such as hissing, crackling and clicking etc.
NEW Auto Mastering: Sound optimization with just a few clicks
Wide range of presets for sound optimization
Track markers for dividing long recordings
Automatic completion of album information
Volume normalization
Clipping reduction
Add sound effects or audio commentary
Price & Availability
Audio Cleaning Lab 2014 is now available from MAGIX on line and Amazon at £39.99 SRP